Blog Post
Highlighting New Projects on Humanities for All: Summer 2021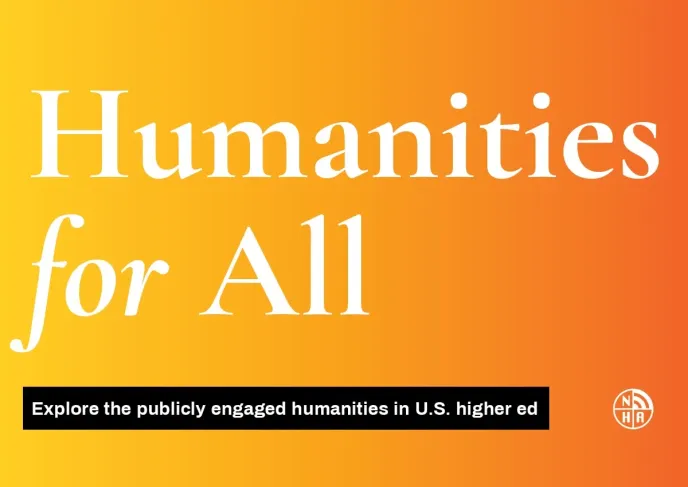 We are pleased to announce the addition of new projects to the Humanities for All database, now 2,000 projects strong! This season, we are highlighting new projects that are committed to thinking about issues of space, geography, and community history. In a recent Humanities for All blog post, Marisa Angell Brown wrote about how spatial justice often functions as an integral (though sometimes unnamed) goal of public humanities work. As Brown writes, "public memory work may be most effective when it involves the preservation or creation of sites and spaces that remake the public landscape, redistributing power geographically." Across the projects collected this season, universities are thinking critically about their role as agents of power in their local communities. Questions of space and place echo throughout this work—how can higher ed institutions contribute to national debates about issues such as reparations, indigenous land reclamation, racial redlining, and rural and urban divides? Below, we highlight a few compelling initiatives we have added to the database and encourage you to follow along as these projects grow and evolve. You can access the full list of newly-added projects via the panel to the right.
At Lehigh University, since 2007 the South Side Initiative (SSI) has brought together faculty, students and staff with the community of Bethlehem, Pennsylvania through multi-year working groups, research projects, public events, and engaged courses. Despite its close proximity, the relationship between Lehigh and its South Side community for generations has been colored by class and racial segregation exacerbated by the town's loss of its robust steel industry in the 1990s. SSI was launched by the Lehigh Humanities Center and the American Studies program as a way to address this divide. Projects such as Hidden Seed: Bethlehem's Forgotten Utopia bring Lehigh faculty and Bethlehem community members into close partnership. Hidden Seed is a play about the African, Native American, and European women who participated in founding the city of Bethlehem in the 1740s and 1750s. It emerged from a collaboration between Touchstone Theatre (an SSI community partner since 2007) and the South Side Initiative. Drawing on a decade of historical research, Lehigh faculty member Seth Moglen wrote the script with the assistance of Bill George, Touchstone co-founder. After a week of performances, a public forum for residents and community leaders explored the kinds of equality that might be possible in the city today. The next production, currently scheduled for Fall 2021, will include an expanded series of community forums. Other SSI projects added in this season's upload include Finding H.D., the LGBT Memoir Reading Group, Studio 11, and the Chinese Bridge Project. Explore the full list in the panel to the right.
At the University of Wisconsin-Whitewater, a team of researchers and community organizations led by James Levy is continuing to build on years of community-engaged work on the relationship between agriculture, Wisconsin history, and forced removal of Native and Black peoples. What began as the Wisconsin Oral History Project has since grown into the Lands We Share project, a 2019 initiative which uncovered shared histories and claims to specific agricultural sites in Wisconsin and supported dialogue across cultural divides. In its next phase, the Whose Land? initiative is extending this work into a two-state community history and public dialogue project across Wisconsin and New York, starting with a series of community conversations that share ongoing local research. These conversations will then serve as the foundation for two public-facing undertakings: a podcast addressing how land has shaped race in America and an online oral history story map and website.
At Arizona State University's Center for Imagination in the Borderlands, two biennial Borderlands Fellowships support individual artists and scholars in the implementation of research projects that create communities across different geographical, cultural, and political landscapes. Joining forces with the Vera List Center for Art and Politics at The New School in New York City, the Borderlands fellowship supports projects that focus on new ways of thinking about borders and that engage the public as well as students at both ASU and the New School. Current fellows include Maria Hupfield and Carolina Caycedo, both multimedia artists working across themes tied to geographic borders and indigeneity.
Finally at the University of South Florida, the African American Burial Grounds and Remembering Project is identifying and preserving African American cemeteries in Tampa Bay. A team based in the Heritage Research Lab and funded by a grant from USF's Anti-Racism Initiative is conducting interviews with people associated with two local African American cemeteries, Zion Cemetery and St. Petersburg's Oaklawn Cemetery complex. After years of neglect, both cemeteries are now located beneath the roads, stadiums, warehouses, and public housing complexes of downtown Tampa. Combining oral histories, photographs, videos and archival information, the project is producing a digital story map that aims to start community conversations on how to best remember and recover these cemeteries.
Check out the new projects on the right, and help us build our database by submitting new listings.