Blog Post
Memoir as a Tool for Action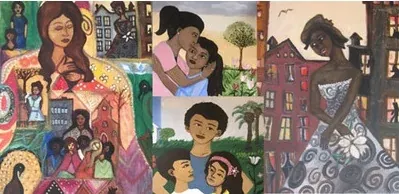 "How do we make education transformative?" This question, posed recently by scholar and activist Ibram X. Kendi, resonates for many educators in the humanities.
As an English professor, my answer is grounded in a belief that stories have the power to change the world—by fostering empathy, deepening understanding of the complex challenges of being human, and empowering individuals to rewrite the narratives of their own lives. Often, however, I find myself questioning whether my teaching (at a STEM-dominant, R1 university) really transforms the students who find their way into my classroom.
It was by stepping outside the classroom and entering into a collaboration with the local non-profit Herstory Writers Workshop (HWW) that I—and my students—(re)discovered the transformative power of stories. For years I had heard about HWW's work: in teaching memoir writing to diverse populations on Long Island—from the incarcerated and their families to recent immigrants of all ages to migrant farm workers and beyond—HWW helps to bring unheard voices into the public arena so that they might have the power to change hearts, minds, and policies.
Two years ago, as part of our public humanities initiative, the Humanities Institute at Stony Brook University (HISB) invited HWW to talk about their work. Instead of just talking, they showed it in action. Several high school "newcomer" students, many still learning English, shared brief memoirs they had written in Herstory workshops. I became spellbound as I listened to a young woman describing her father's death at the hands of gang members and the courage that empowered her to cross the border alone in hopes of finding safety and opportunity in the US. Through simple language, vivid imagery and exquisite narrative pacing, this brief memoir carried me into her world. Nothing I had encountered before—books, articles, academic and political debates on immigration policies and reform—made so clear the human dimensions of this complex problem. This young woman was not only a talented writer but also a powerful individual who had seized control of her life's narrative. Everything I believed about the transformative power of stories was confirmed.
Thus began a remarkably productive partnership between HWW and HISB. We began with one workshop, "Testify: Memoir as a Tool for Building a Movement," hosted by HISB and led by Herstory's founder, Erika Duncan. College students wrote alongside retired teachers, nurses, activists, and a formerly incarcerated man and his wife, working together to shape stories that connected their lived experiences to larger social issues. They inspired what Herstory refers to as "the dare to care."
"They became part of a true writing community united by a sense of common purpose and faith in the power of stories to bring about change."
Watching the workshop from the perspective of someone who has spent my professional life trying to convince often skeptical students of the power and pleasures of writing, I was astonished by how quickly these students became serious and skilled writers. When signing up for the workshop or introducing themselves at our first meeting, most of the students had stated apologetically, "I'm not really much of a writer." By joining community members who came to the workshop not because they needed to fulfill a requirement but because each had a story that they felt the world needed to hear, the students approached writing in a new way: with a sense of urgency and commitment. They became part of a true writing community united by a sense of common purpose and faith in the power of stories to bring about change. By the end of the semester, the students had grown as writers and as human beings skilled in the art of deep listening and attentive to the value of each individual's unique experience. Over and over again in the final course evaluations, students wrote that this was one of the most meaningful experiences of their college careers.
During the two years since the collaboration between HWW and HISB began, the program has grown dramatically. A credit-bearing internship enables students to write with community members as they learn about, and contribute to, Herstory's story-based strategy for change. Participation has grown almost ten-fold since the internship began; the original "Testify" workshop has expanded into six. We established a Herstory Training Institute at Stony Brook and, working with the national organization Coalition for Community Writing, created a fellowship for graduate students from diverse disciplines and regions who want to integrate Herstory pedagogy with their work as scholars, teachers, and activists. The graduate fellows are taking their training to places we never imagined as they organize memoir writing workshops among the homeless living in the Denver Coliseum; Black cops working to change the policing system from within; and child brides in Syria (to name just a few).
When the pandemic struck, we worried about how it might impact a project grounded in the power of bringing diverse individuals together to form a writing community. To our surprise, the isolation produced by the pandemic, combined with growing awareness of racial injustices and social divisions, super-charged the demand for more workshops: Black students formed a group to address racial disparities made more visible by the pandemic; another workshop brought together students living with disabilities writing to increase awareness of their experiences and needs. New groups are quickly forming as ongoing events make ever more apparent the need for empathy and unity across our differences.
We have discovered that the virtual writing communities retain the same sense of trust, common purpose, and presence that made the original in-person workshops so magical. Herstory's unique, empathy-based pedagogy may be part of the reason. At its core is the Page One Moment—the art of starting a story from a point that "dares" a reading stranger to care about the writer from the first page. The assumption that strangers may not initially care about those they see as "other" seems especially suited to the cold and distancing medium of Zoom and the state of the world we now inhabit. The pedagogy of the Page One Moment reminds us that there is, indeed, no time to waste if we hope that our words might help to bring about the transformations our world so profoundly needs.
Susan Scheckel is an Associate Professor in the English department at SBU, where she teaches American literature and leads the departmental initiative on experiential education. She is a board member and former Interim Director of the Humanities Institute at Stony Brook.