Blog Post
Pandemic Insights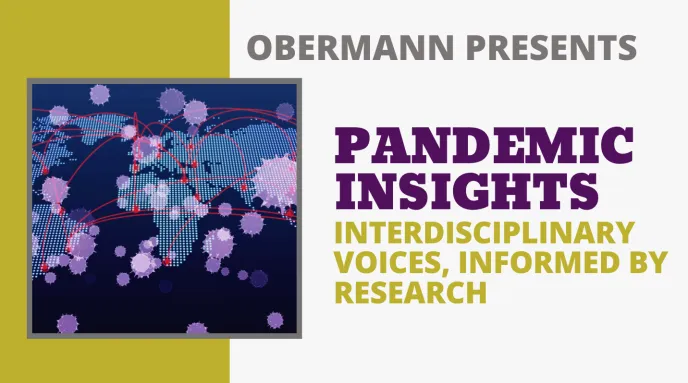 The core mission of the University of Iowa's Obermann Center for Advanced Studies is to support the research of our scholars and artists and to amplify their voices. When we were no longer able to hold public events, including a series that we program at the public library that puts university experts in conversation with local experts around shared topics, we decided to produce a series of filmed conversations in which faculty could help us understand the pandemic through the lens of their specific research.
In addition to UI faculty, we spoke with community partners, staff, and graduate students. (Poignantly, the robe and hood that Lydia Maunz didn't get to wear at a formal ceremony hang behind her while she talks about the topic of her recently defended dissertation—grief in WWI literature). The conversations often echo what was occurring in the news at the time that we filmed, including attempts by Iowa legislators to curtail reproductive rights access, and Wisconsin's decision to hold its election in early April at the height of the pandemic. Sometimes this was intentional, but often news was changing so quickly that it was coincidence. Taken together, we hope that this series of nearly 20 videos will provide a lasting picture of the eight-week period during which we created the videos.
All of the Pandemic Insights can be accessed from this Youtube playlist.
Jennifer New is the Associate Director of the Obermann Center for Advanced Studies at the University of Iowa.
Learn how to contribute to the Humanities for All blog here.