Blog Post
Public Humanities Collaborative at Trinity College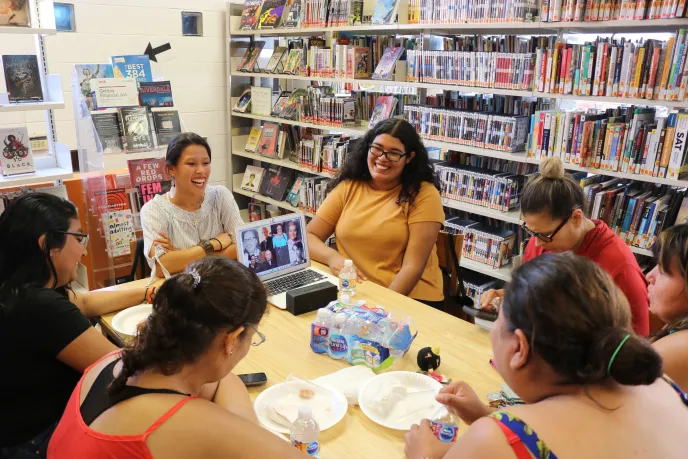 Since 2017, Trinity College's Public Humanities Collaborative (PHC) has brought together cohorts of students, faculty, and community partners in Hartford for a summer research opportunity in the public humanities. Broadly, PHC projects examine how people interpret stories of our human experience. For 10 weeks, 16 students work 15 hours per week on humanities-oriented faculty scholarship and another 15 hours per week on community partner public humanities projects (oral history collections, interactive websites, exhibits, public performances, and more). In past years, student projects have included an oral histories podcast project of LGBTQIA+ life in Hartford, a travelling exhibit for the Jewish Historical Society, and a public pop up program highlighting themes in the Voces de la Migración oral history collection, among many others.
However, Summer 2020 proved to be anything but typical. Unlike their peers in previous cohorts who were able to work alongside their partners in person, these students faced a new reality: COVID-19, social distancing, and shutdowns. As the collective human experience began to shift, it required students, faculty and partners to rethink their approaches to the humanities, prompting two important questions:
How can we cultivate human connection and expression in isolation?
How can we better understand the human experience in a digital landscape?
It began as many journeys have during this pandemic—on Zoom. Over the course of ten weeks, students worked with faculty and community partners on public humanities projects and participated in weekly virtual lunch-and-learn workshops to learn about a variety of topics in public humanities. Students had the opportunity to cultivate skills in archival research, oral history interviewing, digital storytelling, story mapping, exhibit planning, social media engagement, website construction, and more. To supplement their field experience, lunch-and-learn workshops focused on digital tools like Story Maps and Canva. Students and faculty also discussed broader issues like ethical approaches to research and community projects and strategies for managing multiple projects.
The result? Each team uniquely navigated an entirely remote summer with innovation and ingenuity. This year's projects include:
Voces de la Migración: Archiving and Sharing the U.S. Latinx Experience in Hartford
A digital archiving project between the Watkinson Library/Trinity Special Collections and Archives and the Hartford History Center at Hartford Public Library.
Zeinab Bakayoko '23
Karolina Barrientos '22
Mia Conte '22
Krystal Philson '21
Wendy Salto '22
Gabriel Sorondo Guirola '23
Audio Shelfie with Digital Scholarship Coordinator Mary Mahoney
A storytelling project designed to foster empathy by creating remote storytelling opportunities using themed prompts for Trinity and Hartford contributors.
Esther Appiah '21
Max Nortemann '23
Making Visible Trinity, Hartford, and Caribbean Histories with Professor Janet Bauer
A website archive of Trinity's Women and Gender Studies program with a focus on user interface (UI) and user experience (UX) design to ensure ethnographic, audio, and video documentary content would be accessible and exciting for multiple public audiences.
Ayesha Malik '22
Hassan Rashid '22
Eviction Intervention and Prevention with the Connecticut Fair Housing Center
A project identifying eviction cases in Connecticut and determining whether they violate the evictions moratorium currently in place due to COVID-19.
Ayesha Malik '22
Hassan Rashid '22
Food, Wine, and World History with Professor Jennifer Regan-Lefebvre
An editorial and research assistantship focused on building a bibliography of scholars and scholarly works on food and imperialism and finalising three manuscripts for publication: a book manuscript on the history of the wine trade in the British empire, an article on the global history of wine and colonialism, and an article on theoretical approaches to wine history.
Jaymie Bianca '21
Kyre William-Smith '21
Masho Strogoff '22
Doris Wang '21
Bringing American History to New Audiences with the Webb-Deane-Stevens Museum
A digital content project focused on creating online tours, graphics and animations for web and social media channels, and instructional videos for educational programming for K-12 and adult audiences.
Jaymie Bianca '21
Kyre William-Smith '21
Masho Strogoff '22
Doris Wang '21
Building an Online Archive of Caribbean Anti-Colonial Thought with Professor Maurice Wade
An online archiving project focused on identifying original and secondary sources pertaining to Caribbean anti-colonial thought and determining how best to organize these materials for online presentation.
Divina Lama '21
Ananya Usharani Ravishankar '21
Investigating Welfare Liens with the Connecticut Fair Housing Center
A research project focused on investigating welfare liens, which allow the state to recover assistance funds someone has received in the past by demanding repayment when they purchase or refinance a home.
Divina Lama '21
Ananya Usharani Ravishankar '21
You can learn more about each project, the participating students, faculty, and community partners, and the digital tools they explored to make their projects possible in a virtual format here.
If humans aren't perfect, neither are the humanities. The human experience is complicated, messy, and nuanced, and the process of exploring humanity is no different. The pandemic added another dimension to the collective experience and also created an even greater need for not just lifting voices, but listening to them. Rather than being discouraged by imperfection, the PHC Summer 2020 cohort embraced it and forged creative new avenues in the exploration of the human experience.
Morgan Finn and Erica Crowley work in the Center for Hartford Engagement & Research (CHER) at Trinity College. Morgan's role as Communications & Program Assistant for the Liberal Arts Action Lab, a partnership between Trinity College and Capital Community College, focuses on supporting teams of students and faculty in carrying out collaborative semester-long research projects that are defined by community partners. Erica's role as the Director of Community Learning focuses on fostering academic connections with Hartford partners to deepen experiential learning through collaboration and perspective-building relationships. More information about the Center for Hartford Engagement & Research at Trinity College can be found at https://cher.trincoll.edu.
Support for the Public Humanities Collaborative was provided by a grant from The Andrew W. Mellon Foundation.