Blog Post
Shared Voices, Shared Experiences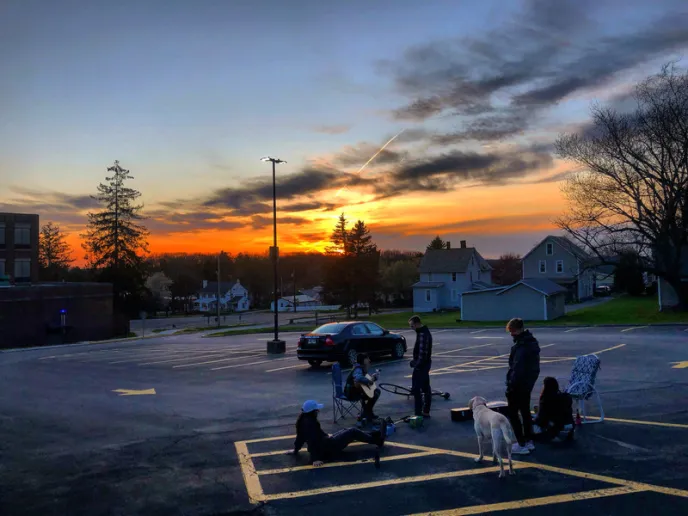 The Shared Voices, Shared Experiences COVID-19 archive project was created out of an instance of serendipity. In late March, shortly after our university had transitioned to a fully-online semester and Pennsylvania governor Tom Wolf had issued a stay-at-home order for the state, two separate emails from different colleagues put words to something we were all thinking: "We need to be documenting this." Given the dramatic nature and breathless pace of new events, the collection and preservation of records seemed the best way to bring our commitment to public engagement to bear on the present moment.
We quickly assembled a working team from the History department, the Stone House Center for Public Humanities, and the university's library and archives. After relatively brief strategy and planning meetings, we created the site using open source web-publishing platform Omeka. Early in the process, the team agreed we wanted the project to represent both the university and the experiences of our broader community in Western Pennsylvania. With that in mind, we also incorporated Omeka's Contribution plugin, allowing members of the community to upload text, images, video, or other media to the archive.
Over the following weeks, users contributed a fascinating array of historical evidence that documented important events and also conveyed the ways in which COVID-19 dramatically altered the "norms" of everyday life. Some examples include:
A faculty member documented a drive through an empty campus on graduation day, normally one of the most congested, crowded days of the year
A community member shared a photo of her virtual baby shower conducted via Zoom when the original one had to be canceled
A student contributed a bit of humor to the mix, with a collection of photos depicting him cooking, playing basketball, etc. while wearing hazmat gear—including a full military-grade gas mask
The project has now collected approximately 200 records, but there is still much more to capture. One challenge has been encouraging people to think about their experiences as worthy of documenting; when the general public thinks of historically-valuable records, they're probably not thinking of capturing sidewalk chalk messages, a parking lot church service, or poetry written during quarantine. But all of these are, of course, a valuable record of the lived experiences of COVID-19 in our communities.
Now that the dramatic disruption of the early quarantining period has abated, the next phase of the project will involve building the archive further and capturing an even broader range of experiences. Student interns are currently creating strategies to solicit new contributions and engagement via social media, and are also arranging socially-distanced oral history interviews documenting the quarantine as well as the "reopening" process.
It's our hope that Shared Voices, Shared Experiences—and other rapid-response digital archive projects like it—can fill a void in the historical record for future generations. As so much of our communication is digital and often ephemeral, future historians will not be able to draw on paper letters, journals, and other correspondence that forms much of our record of the past. Furthermore, the collapse of print news media publications in smaller cities and rural communities (like those served by Slippery Rock University) in recent decades means that these experiences will be silenced in the historical record without intentional efforts to preserve them. Shared Voices, Shared Experiences is our small attempt to contribute toward future understanding of our region in this extraordinary singular time.
Learn how to contribute to the Humanities for All blog here.