Blog Post
Student Fellows Share Learnings from DePaul's HumanitiesX Collaborative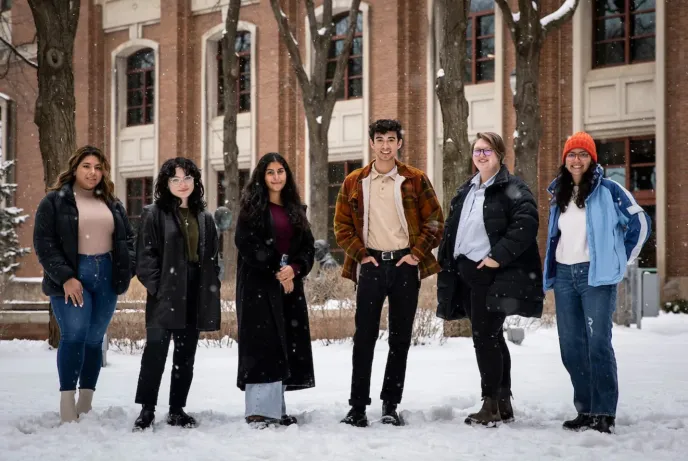 This is the second blog post from the HumanitiesX collaborative at DePaul University that we have featured on the Humanities for All blog. The first post, "Community Partners Weigh in at DePaul," was written by HumanitiesX coordinator Deborah Siegel-Acevedo and highlights how the HumanitiesX initiative has impacted their inaugural community partners. In this post, Sergio Godinez shares his experiences as one of the first HumanitiesX student fellows and five ways that faculty and administrators can maximize the contributions of student fellows to public humanities initiatives like HumanitiesX.
--
Each year at HumanitiesX (HX), DePaul University's experiential humanities collaborative, six student fellows work in partnership with a cohort of faculty and community fellows to design and deliver new interdisciplinary, project-based, community-engaged courses in the humanities. As one of the first students in this new role at DePaul, I'm here to report that although the work is daunting at times, student fellows can bring an invaluable perspective to initiatives like HumanitiesX.
Student fellows join the HumanitiesX fellowship cohort in the winter quarter after the three teams of HumanitiesX fellows—consisting of two faculty members and a community partner—have drafted a syllabus for their new course. Student fellows then work with the full cohort, reviewing course descriptions, syllabi, and assignments. Near the midpoint of that quarter, in pairs, we are assigned to and begin to work with one of the three courses. When the courses run in the spring, we assist both inside and outside the classroom wherever needed. We help communicate the professors' expectations. We co-facilitate discussions, organize community outings, and help students as they develop their projects. In the summer, we put the finishing touches on student projects, and we reflect on all the work we accomplished.
In the spirit of sharing what we've learned as the first cohort of HX student fellows, I offer five ways that faculty and administrators can put student fellows to work in the service of public humanities programs and maximize our contributions as co-collaborators.
1. Create Open Forums for Constructive Feedback
Collaboration is at the core of what we do at HumanitiesX. Our faculty and community fellows seek to better understand student experiences in the 21st century, and our honest feedback is encouraged at every step of the process.
In the winter quarter, for example, us six student fellows reviewed the course descriptions of each of the three new courses before they were circulated to students during the course-registration period. Among our suggestions: let the students know what the community partner organization does and who they serve, make the course title more specific, let students know there is no prerequisite in video editing or art to take the course. We did the same thing with the draft syllabi, sharing our feedback in a group meeting with all the faculty and community partners.
As student fellows, we want to see our program succeed. Thus, when we notice areas of improvement, we enjoy having the opportunity to share our ideas. The creation of open forums for constructive feedback has allowed us to build a strong, communicative, and innovative collaborative fellowship program.
2. Develop Opportunities for Student Fellows to Pursue Their Passions
HX courses are organized around a different unifying theme each year. This year's theme has been Immigration and Migration. One of the reasons why our collaborative has been so successful in its inaugural year is because each of us carries a passion for this year's theme. We were selected specifically for our demonstrated interest in immigration and migration.
Laura Pachón, for instance, also serves as a student fellow and is a first-year grad student in DePaul's MA in Refugee and Forced Migration Studies program. Her passion for topics in immigration and migration stems from an earlier class experience. "I took a course on peace and conflict studies, and it opened my eyes to all the atrocities going on in the world," she said. "When I would speak to my friends and family about this and no one really knew what I was talking about, it made me start a campus organization inspired by Amnesty International to educate my peers and community." Laura brought that same commitment to HX.
Recognizing our sense of sincerity about the theme and the roles we were stepping into, our supervisors invited us to explore our individual interests. In the winter, for example, student fellows were invited to host "Fellows Fridays," one-hour meetings during which we could present to the full cohort about our interest in immigration and migration. I made a presentation to the group sampling how topics within immigration and migration are variously communicated through poetry, music, and art and how each medium uniquely resonated in relation to this year's theme.
Giving us choices was also important for cultivating our passions. Each student fellow rank-ordered the three HX courses we wanted to pair with in the spring and we were all matched with our first- or second-choice course. Likewise, we all do work on behalf of the HumanitiesX initiative, but we could choose one of three areas to work on: Media and Outreach, Documentation and Storytelling, or Immigration Resources and Web Content. I've always wanted to gain experience in writing articles for publication, so I joined Media and Outreach. I have the creative space to write blog posts that simultaneously speak to my commitments and spread the work of the collaborative. My work for the Media and Outreach team is why you're reading this article here on Humanities for All.
3. Encourage Student Fellows to Identify and Develop Their Strengths
During our first few weeks in our fellowship, we were asked to identify our individual strengths and how they could be used to benefit the collaborative. One of the first group activities we did was to contribute to a group "User Manual" to share with the other student fellows and our supervisors how we each best worked. Having the opportunity to openly discuss our strengths, we made discoveries early on about how we each could uniquely support HumanitiesX.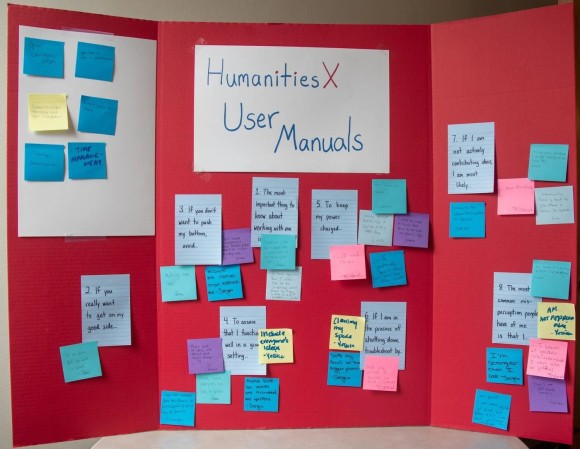 Comfortable with public speaking and able to engage a diverse audience, I became a PR representative for the collaborative, speaking at events like DePaul's annual Service Speaks Conference to explain how we were pioneering how the humanities are taught in higher education. The student fellow that I'm paired with, Yessica Pineda, is an art minor with an interest in photography. She has been important to documenting our course with photographs.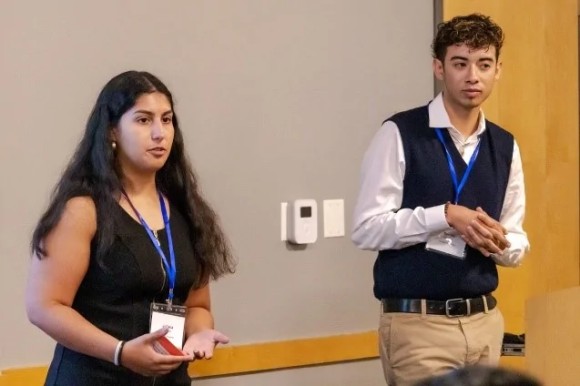 Giving student fellows the opportunity to reflect on their strengths, and then to use and develop them, builds a sense of respect. It makes us excited to attend meetings, conferences, and community events as we can see our strengths make a difference in the collaborative.
4. Treat Your Student Fellows as Co-Collaborators
Entering the role of a student fellow can be intimidating. Working with faculty who are pioneers in their fields and community partners who are leaders in the Chicagoland area sometimes makes it difficult to imagine where we as students fit in.
Yet the six of us quickly realized that the faculty and community fellows wanted us to engage as equals. Being included in every aspect of the fellowship opened our eyes to how we can contribute to building new structures through which higher education can address problems of today and solutions of tomorrow.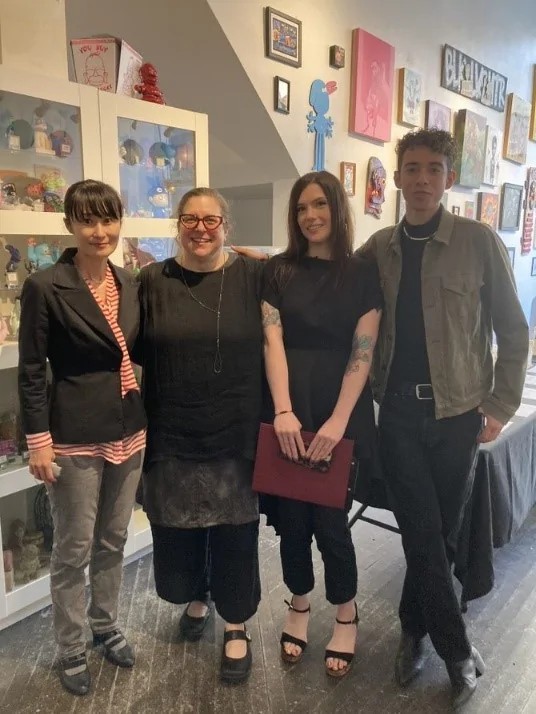 Juliana Zanubi, a student fellow and junior majoring in International Studies, experienced this up close. "I see how teams built of different people with different areas of expertise and focus can come together and create something that will inspire others and improve our communities," she said. As a bilingual Spanish/English speaker, Juliana has been an essential collaborator in her team's course, which is working to gather oral histories of activists for immigrants' rights with Brighton Park Neighborhood Council.
5. Make Student Fellows Feel Part of Something Big
The culture of trust, understanding, and purpose between HumanitiesX fellows is reflected in each of the four pieces of advice I've mentioned above. The community we've created together both emerges from and contributes to our belief that the work we're doing will matter long after we've ended our fellowship. As student fellows, we know that we have contributed to a new model for teaching and learning at DePaul and that we have, even if only in a small way, helped to increase understanding about immigration and migration.
Juliana summed up this interconnection between trust, understanding, and purpose: "Getting immigrant stories out there gives me hope that people will be able to relate to their lives more and recognize that immigrants are people with feelings and unique stories."
--
If you're thinking about including student fellows in your university-based public humanities program, we hope you'll find your way back to this article. For more information, please feel free to contact our faculty director Lisa Dush, our HX coordinator Deborah Siegel-Acevedo, or reach out to an HX student fellow here.
P.S. In a few years, we'll all be looking for jobs. We have great experience. Look us up!
Sergio Godinez is a 2021-22 Student Fellow with HumanitiesX at DePaul University.