Blog Post
Student Voices: The Oberlin Sanctuary Project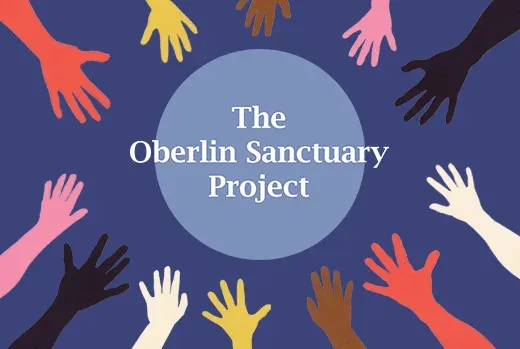 This is the first in a series of blog posts from students who participated in publicly engaged humanities projects funded through Humanities Research for the Public Good (HRPG) grants from the Council of Independent Colleges, supported by the Andrew W. Mellon Foundation. In this post, Caitlin Merikallio of Oberlin College discusses her work with the Oberlin Sanctuary Project, which documents Oberlin's history of providing a safe haven and help for humankind.
--
When we learn about history, we take from the past the knowledge and hope that we need and bring it into our future. My work as the student researcher for the Oberlin Sanctuary Project allowed me the opportunity to access and spread this knowledge to my peers. The Oberlin Sanctuary Project is dedicated to spreading knowledge of times in Oberlin's history when the college and community have reached out to help those who needed aid, using the past to understand what it means to be a sanctuary campus. The Oberlin Sanctuary Project both looks into times in the far past, such as Oberlin's role in the Underground Railroad, and into more recent history, such as community members who worked with immigration movements in the 1980s and are still volunteering today. By researching both historical records and conducting oral history interviews and then taking this information to a variety of communities in the area with our travelling installation, The Oberlin Sanctuary Projects brings memories of past compassion into the present. At this point in time, between pandemic and political turmoil, sharing stories from Oberlin's history of helping those in need is more important than ever as it allows us to look to our past to find strength and solidarity.
As a researcher, I learned about the importance of local history and history's connection to the community in which it's based. This project made me realize how much the past can influence the present, especially on a local level. My research into anti-aparthied activism at Oberlin particularly highlighted just how many of the activist groups and protest tactics from then are still operating on campus today. Oberlin is often a politically engaged place, so a connection to past activism is especially relevant. Learning the context of the town's history created an instrumental change in how I view it in the present, and my discussions with other students revealed they often felt a similar way. In a time filled with such uncertainty, looking to our past to see how people have always helped each other is crucial in bolstering our sense of hope.
My work for the Oberlin Sanctuary Project has increased my interest in and knowledge of researching local histories, something I have begun to apply to my hometown—Santa Cruz, California—as well. I've been using the skills I learned from this project to research historical moments of racialized violence in Santa Cruz and the shift from conservative to liberal politics in local government, and this context has greatly changed how I understand the place that I live. It also taught me many useful, tangible skills to take with me into the future. On top of learning how to better navigate archival systems and track down pertinent resources, I also learned how to design websites on Scalar, collect metadata, conduct oral histories, and use Photoshop and PowerPoint much more effectively. After working as the student research assistant for this project, I have begun to consider pursuing a Library Science degree. That being said, I did face challenges as well. Sometimes research hit a dead end, or I could only progress with the help of more skilled archival researchers. These roadblocks were still useful in their own way by challenging my problem-solving skills and teaching me to look for new ways to approach my work.
The stories the Oberlin Sanctuary Project has documented are invaluable in gaining a better understanding of Oberlin today, and each brings its own important messages to the present. They are direct links to show us how activism in the past can influence activism now, and make sure that knowledge is readily available to anyone. This knowledge has recontextualized my relationship to my community and how I view history itself.
Caitlin Merikallio is a 2020 graduate from Oberlin College, who majored in History and Creative Writing.
Read more about our research partnership with CIC on the National Humanities Alliance blog.