Blog Post
Teaching Religious Literacy through Muslim Women's Stories: A Public Humanities Approach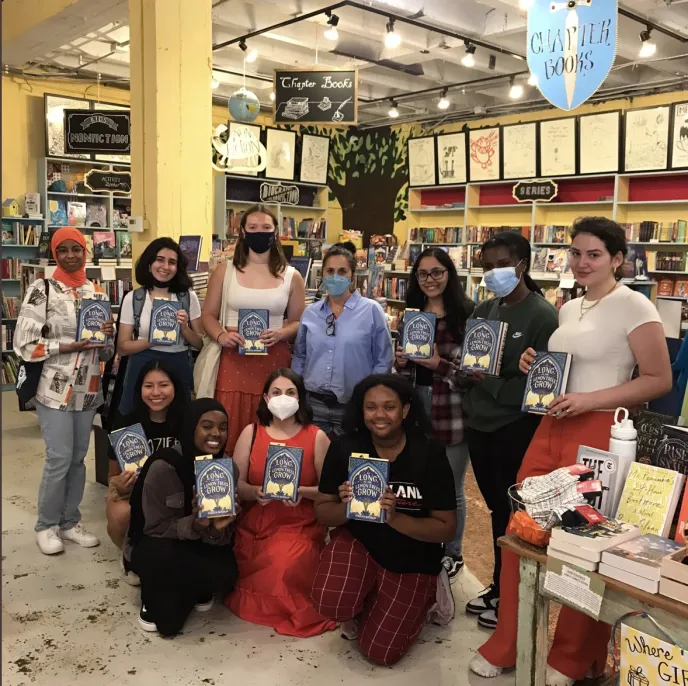 Muslim Women's Storytelling is an upper-level public humanities course I [Dr. Rose Deighton-Mohammed] regularly teach at Emory University. I first developed Muslim Women's Storytelling during a Mellon Interventions Public Scholarship Teaching Fellowship in 2020-2021 and expanded it to include a community-engaged learning component during a Public Humanities Postdoctoral Fellowship in 2021–2022. The course explores how Muslim women negotiate their identities and experiences in multiple narrative mediums and the power of narrative storytelling to resist monolithic and reductionist representations of Muslim women's lives. As students consider how the nexus of patriarchy, colonialism, racism, and Islamophobia impact Muslim women's lives and stories, we consider how their narratives serve as accessible tools for religious literacy training. We then critique how this important function exists alongside a common and problematic expectation in the publishing industry: that Muslim women tell stories that are relatable to white readers.
The course is designed around a public humanities collaboration with Little Shop of Stories, a multicultural children's bookstore in Decatur, a suburb of Atlanta, Georgia. Little Shop of Stories is known throughout Atlanta for its excellence in displaying diverse books. A natural partner, co-owner Diane Capriola works with the class to design student projects related to Muslim woman-authored books released at the beginning of the semester. Our collaboration with Little Shop of Stories was supported by a Community-Engaged Learning Grant from the Center for Faculty Development and Excellence here at Emory University.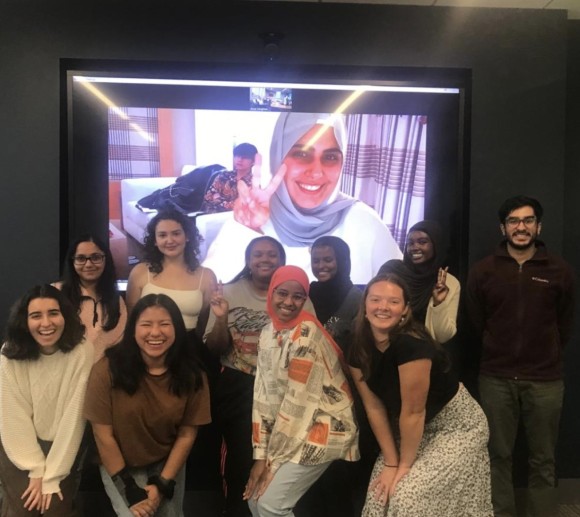 In the following paragraphs, two students who participated in the class share their experiences creating reading guides for Muslim YA novels.
Layla Dhabaan, Emory '24
In Spring 2022, Emory student Laila Sabreen published her first book, You Truly Assumed, a YA fiction novel following three Black Muslim teenage girls who use blogging as a form of social activism. Students created a reader's guide for middle grade students and their parents. For me as a Muslim, You Truly Assumed touched on topics and communities, such as Black Muslim women, who experience Islam and Islamophobia in distinct ways. Considering the book was written by an Emory student, I discovered how versatile the humanities could be to draw connections across social identities, and that the curriculum can be implemented by our very own students. Since the course coincided with Ramadan, we created reader's guides to accompany Little Shop of Stories' Ramadan display. These guides served to help local customers explore Muslim woman-authored books across genres. While creating the Ramadan Reader's guide, I became more comfortable advocating for my own identity through the humanities, and I learned that I can shape my own impact on the curriculum. For example, I currently run a vlog, where I record bits of my day. Ever since reading this book, I have become comfortable expressing my religious identity and background through my vlogs—by including religious thoughts and Arabic quotes.
Paige Scanlon, Emory '25
In Fall 2022, students crafted a complete high school curriculum for the YA novel As Long as the Lemon Trees Grow by Zoulfa Katouh, a story about a young woman pharmacy student during the Syrian revolution. We created lesson plans, history lectures, in-class activities, reflection questions, assignments, and rubrics for the text. Utilizing Katouh's newly released novel to curate a curriculum for local high school students enhanced my understanding about the power of public humanities. As I placed myself in the shoes of high school students, I found clarity in my own perspective and empathized with both the themes of the text as well as the students who will engage with it. This project served as a refreshing opportunity to step outside of myself and subvert traditional student-teacher expectations that ultimately created an academically holistic space to grow.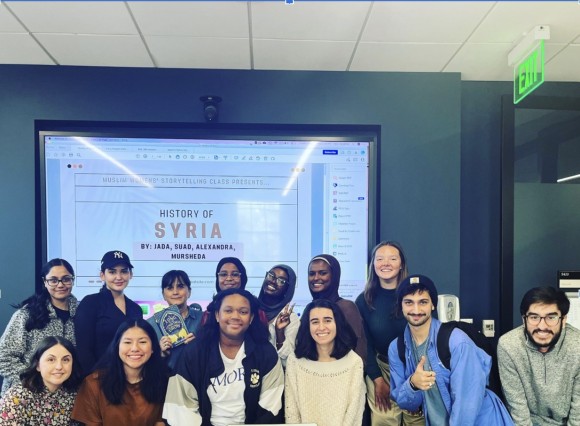 A public humanities pedagogical framework is an effective way to present Muslim Women's stories as both windows for cultural literacy and mirrors through which students can better understand themselves. This approach cultivates skills for empathetic scholarship—deep listening, self-awareness, and learning in community. Most importantly, there is a tangible joy and pride activated among students when seeing their work implemented in their local community. In future semesters, we hope to develop pathways for student curriculum development projects to be implemented in local middle-grade and high school history and English classrooms.
Layla Dhabaan is a third-year student at Emory University, studying Interdisciplinary Studies through a global health lens. She is involved in volunteering with UMMI and Project Downtown, runs a small art business, and enjoys celebrating Arab culture on campus.
Paige Scanlon is a second-year student at Emory University studying Religion and Interdisciplinary Studies. She currently aspires to join the Peace Corps after college and pursue a master's degree in social work.
Dr. Rose Deighton-Mohammed is a scholar of religion, gender, and public humanities. She currently works as Postdoctoral Teaching Fellow in the Institute for Liberal Arts and serves as Director of the LINC Initiative (Learning through Inclusive Collaboration) at Emory University.