Blog Post
The Medieval Institute at the University of Notre Dame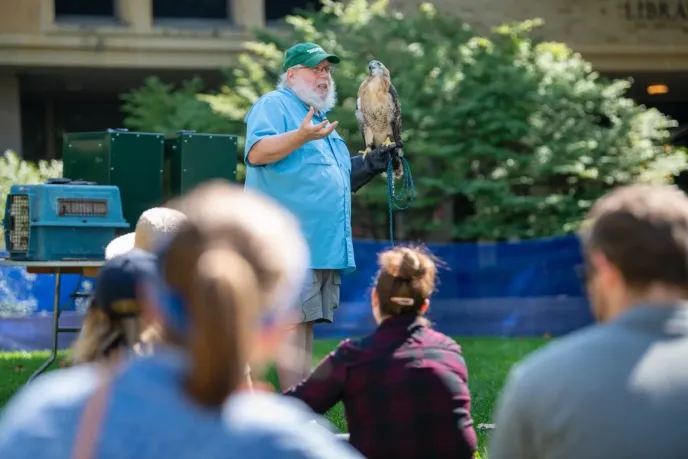 At the Medieval Institute at the University of Notre Dame, we believe that thinking through the Middle Ages opens up alternative perspectives on modern issues, from labor and the environment to multiculturalism and interreligious dialogue. The Institute's new public humanities initiative aims to facilitate community engagement with medieval culture through public programming and teaching. To that end, we have adopted a three-pronged approach: Game Day events, roundtable conversations, and engaged teaching in local public schools.
First, the Institute has partnered with regional artisans and educators to bring their practice of historically informed crafts to the university. We invited these community partners to campus on football Saturdays to share their expertise with students, faculty, alumni and visitors, including families with young children. They demonstrated their hands-on experience with crafts that date back thousands of years: cooking, martial arts, falcon hunting, metal forging, and cosmological modeling. These experiential learning activities productively complement the academic research of our faculty on campus and enhance student learning about medieval art, science and technology. These events not only raised the Institute's visibility; they also centered the lived experience, knowledge, and skill of medieval workers—a social class often overlooked in popular imaginings of medieval knights and ladies.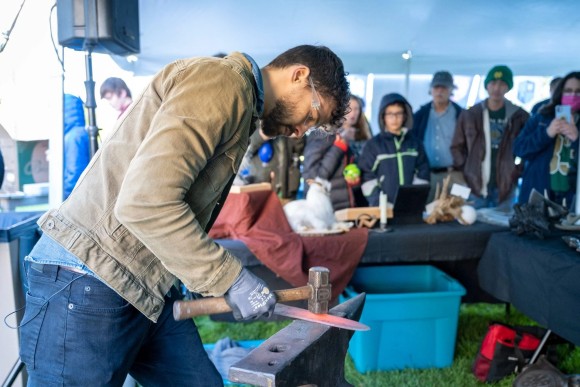 Second, we've sought to show the Middle Ages' relevance to current social concerns through a series of roundtables. We partnered with Indiana public radio to host a conversation about the impact pandemics have on labor markets. A medieval historian, a labor historian, and a sociologist drew connections between how the medieval bubonic plague and the global COVID-19 pandemic affected workers. The conversation aired on the local public radio station and a statewide radio talk show, contributing to reporting on Indiana workforce issues. Additionally, we co-sponsored a roundtable on the common good in medieval thought and pandemic debate with the Ansari Institute for Global Engagement with Religion. This event furthered local efforts to promote interreligious dialogue by featuring speakers from Jewish, Christian and Islamic faith traditions.
Third, we are collaborating with South Bend public schools to offer an elective course on the multicultural Middle Ages to seniors in the International Baccalaureate program. The course will expand the academic community engagement of Notre Dame, with faculty and students delivering weekly guest lectures and facilitating field trips to university special collections. In line with the goals of IB program curricula, the course will encourage students to think critically and challenge assumptions about the so-called "Dark Ages." How we understand the medieval past has real geopolitical effects: this thousand-year period of world history was invoked by U.S. government leaders to cast the War on Terror as a continuation of the Crusades. We want students equipped to question narratives of civilizational conflict between East and West that assume Europe, imagined as homogeneously Christian, has always been at war with the Islamic world. Students will study primary sources that document cultural exchange around the medieval Mediterranean, the influence of Arabic science and philosophy, and the tolerant co-existence of Jews, Christians and Muslims in the Holy Land and Islamic Spain. By publishing their learnings on the Medieval Institute's research blog, students will produce new knowledge about contemporary medievalism. Learning about medieval history from this global perspective will prepare high schoolers to be productive citizens of the multicultural world in which we live today.
To support these innovative community-learning and service initiatives, the Institute has established a new postdoctoral fellowship in public humanities. As the first fellow to hold this newly created position, I work to design and implement the initiatives described above, all of which have launched this year on the occasion of the Medieval Institute's 75th anniversary. Going forward, I hope to expand our community partnerships and animate greater involvement among our students and faculty. This public humanities infrastructure will position the Institute to become a leader among interdisciplinary programs at higher education institutions in community engagement. Together with our local and regional partners, we hope to tell a different story about the Middle Ages, one that does justice to its complex reality and proves relevant to our time.
Ann Killian is the Public Humanities Fellow at the Medieval Institute, University of Notre Dame. She holds a Ph.D. in English from Yale University.