Blog Post
Transforming Connection to Place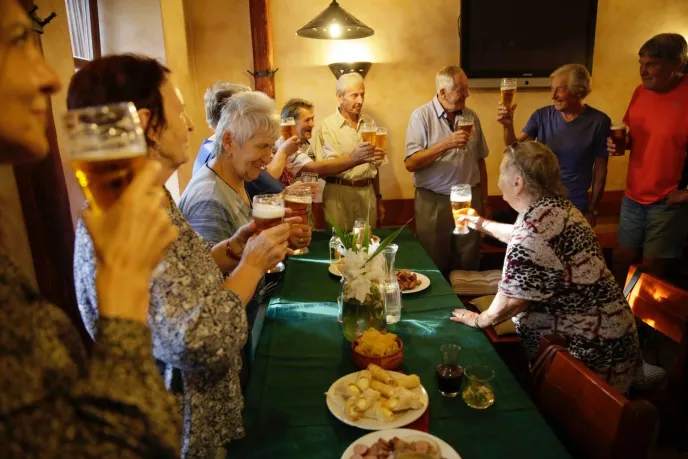 We wrote this blog post back in February, before the Covid-19 pandemic reached us, before Minnesota and the rest of the world was rocked by George Floyd's murder, before anyone in the U.S. thought much about face masks, let alone thought they were political statements… Now in July 2020, with communications so fraught and human contact so distant, we are all the more aware of the power of community-engaged learning, and the urgent need for scholars to deepen their connections to the places and peoples they study. We need to pay attention to our relationships and tend to our communities, by, in the words of our colleague below, "stay[ing] put, and open, and aware."
Publicly engaged humanities projects that are deeply embedded in a sense of place have the capacity to genuinely connect with partners on their own, local terms. This connection can be one of this work's great rewards, but can also pose challenges for academic scholars, particularly those based at universities far from their collaborators.
At Carleton College, we are supporting faculty who are pursuing these relationships at all distances via a four-year Mellon Foundation-funded initiative, Public Works: Connecting Communities through Arts and Humanities. Now in its third year, the initiative has supported faculty, staff, and students engaged in collaborative, reciprocal partnerships with diverse organizations and communities beyond Carleton.
The Public Works Initiative has supported projects that connect Carleton faculty with organizations as close as a block from campus and as far as an ocean away. Each project has demonstrated how engaging with community partners anchors academics to place in ways that deeply enhance traditional scholarship. Importantly, this is true for scholars who study distant communities as much as those who connect with communities closer to home. Public Works has opened up critical space for our campus to think more about our connections to place from both local and global perspectives.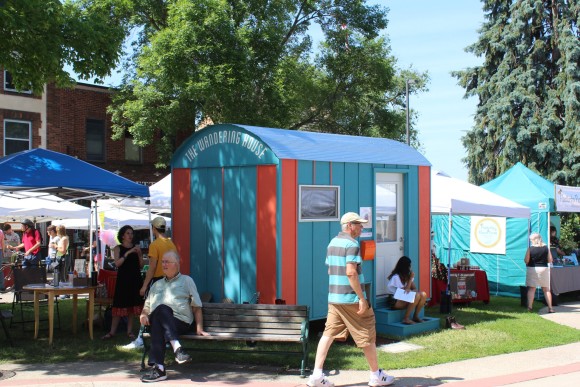 One of the local projects supported by the initiative is The Wandering House, directed by Cecilia Cornejo, instructor in Cinema and Media Studies at Carleton College. She converted an ice-fishing house into a brightly-painted mobile audio recording studio and invited residents of Northfield, MN (where the College is located) to record their thoughts on "home," a shifting concept as more people around the globe become displaced. Over the course of summer 2019, Professor Cornejo and her student research assistants brought The Wandering House all over town and gathered 225 recordings amounting to nearly 40 hours of audio. An immigrant herself, Professor Cornejo will use the audio collected to continue engaging community members in the creation of multimedia works that speak to the experience of home and belonging in the rural Midwest. By complicating notions of "home" and providing opportunities for reflection and discussion, Professor Cornejo challenges the prevailing representations of rural people and immigrants alike. Cornejo reflected on the project: projects/"Mary Oliver said that attention is the beginning of devotion, to which I would add that paying attention means that you stay put, and open, and aware. And from this place, you cannot fail."
Other projects have highlighted the ways that community-engaged humanities can redefine our understandings of distant places. In the winter of 2019, Elena McGrath, visiting assistant professor of History, taught a course on the history of the U.S.-Mexico border that incorporated an academic civic engagement project. While Minnesota might not obviously lend itself to community engagement related to the U.S.-Mexico border, Professor McGrath centered the project on ideas of borders and borderlands. Students conducted community-based research on local inequalities in housing, healthcare, and education, examining the ways borders and borderlands were present in Northfield, particularly in the Latinx community. In doing so, students transformed their conceptions of the community and their place in it, while exploring ways of understanding borders and borderlands far from campus.
Many faculty members helm projects involving communities further afield. Like projects based closer to Carleton, these community-engaged projects both deepen scholars' connections to place and further their more traditional scholarly work. Iveta Jusová, professor of Women's and Gender Studies, collaborated with the aging residents of a Soviet-era housing bloc in the Czech city of Opava to capture the history of their community. Working with celebrated Czech photographer Jindřich Štreit, Jusová documented residents' memories and perspectives on their cooperative housing in text and images. They created a website and exhibition of their work and published a remarkable book of photographs.
The Constellation of the Commons, directed by Palmar Álvarez-Blanco, professor of Spanish, is a digital repository as well as a community of practice and a tool with the potential to transform traditionally siloed sectors. Documenting anticapitalist grassroots organizations of activists, educators, artists, and researchers, the archive highlights the plurality of their responses to the challenges around them. Conducting research over five years, Professor Álvarez-Blanco forged relationships with organizations deeply embedded in their communities, while building her own synthetic analysis of "the Commons" as a whole. The Public Works initiative was able to help her bring this work to fruition by supporting the creation of the website and a book as well as celebrating the project's influence on Álvarez-Blanco's pedagogical practice.
While each Public Works project advances a collaboration and a faculty member's scholarly agenda, Carleton's mission as a liberal arts college dedicated to teaching is also reflected in these projects. Our community-engaged projects involve students through coursework, as research partners, and even as conference co-presenters. Student engagement with community partners, no matter the form it takes, deepens their learning both academically and civically. Through publicly-engaged humanities work, faculty have transformed their connections to place, fueled "traditional" scholarly work, connected their students to place, and enriched their students' educational experience.
Elizabeth Budd, a 2019 graduate of Carleton College, is the Program Associate for Carleton College's Mellon-funded initiative: Public Works: Connecting Communities through Arts and Humanities. Susannah Ottaway, Carleton Professor of History co-directs the initiative with Kelly Connole, Professor of Art. The Public Works Initiative can be found on Twitter @Carleton_PW.
Learn how to contribute to the Humanities for All blog here.