The Art of the Hunt: Wyoming Traditions documents and presents Wyoming's hunting and fishing culture, arts, and lore, through a partnership between the University of Wyoming's American Studies Program, the Wyoming Arts Council, and the Wyoming State Museum.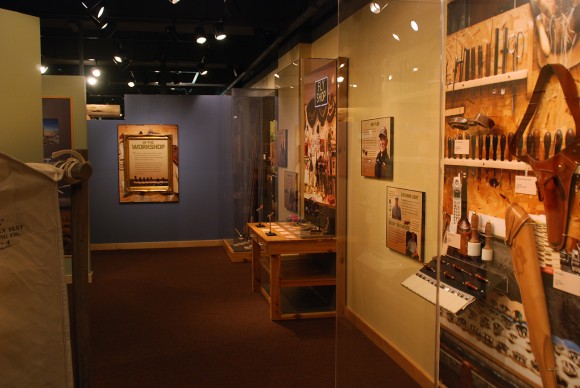 In a state composed of roughly half federal and state lands, it is no surprise that hunting and fishing occupy an important role in Wyoming's family and cultural life.
Over five years of fieldwork leading to a yearlong exhibition at the Wyoming State Museum in 2014-2015, folklife specialist Andrea Graham and UW American studies master's degree students assembled material and oral culture that represent the full significance of hunting and fishing in Wyoming.
"The Art of the Hunt looks at hunting and fishing traditions in Wyoming as a very important part of the state's culture, history, and heritage," Graham explains. "We were interested in contemporary hunting traditions, looked at as traditional culture and traditional art. We did a lot of fieldwork interviews with gear makers, saddle makers, bamboo fishing rod makers, taxidermists, knife makers, gunsmiths, fly tiers, and tent makers."
UW American studies master's degree students worked with Graham through the production of the exhibition and the planning of auxiliary programming for museum visitors and K-12 students, gaining practical experience and a broader and more inclusive perspective on American life.
Beyond the tools of the trade, the Art of the Hunt illuminated the cultural contributions of hunting and fishing: their place in family life and their role in the production of folklore, decorative arts, and food.
The Art of the Hunt highlights the artistry that goes into the production of hunting and fishing material and oral culture, highlighting the creativity of everyday life through the work of local craftspeople.
"There are some incredible craftspeople out there doing beautiful work that is all functional," Graham says. "They are all hunters so they understand how it has to function, but it goes beyond function. There is tooled leather, fancy wraps on fly rods, there is an artistic component. And the way the things were used involves creativity—the way traditions are learned through families and friends, the idea of how traditions are passed on is really important. We wanted people to think about their own traditions in their own lives, whether they were hunters or not."
With this in mind, the exhibition sought to expand the way in which patrons understood folk art.
"You may be surprised to discover handmade tools or weapons as an art form," one exhibition panel explained. "Folk artists often use natural materials—fur, wood, feathers, and minerals—to create useful objects. Folk art surrounds us at gatherings, in our homes, and as we venture outdoors. Traditions pass and change from one generation to another, through a good story and the process of learning by imitation. Folk art teaches us about who we are and how we belong."
"A very important part of the state's culture, history, and heritage"
Hunting and fishing are family traditions in Wyoming, as fly fisher and fly tier Charles McCall explains in a video produced with the exhibition (see above).
"I started fly fishing when I was just a little kid," McCall recalls. "I used to really enjoy taking my dad's old bamboo fly rod out. He had little short hip waders at the time and I was just a little short kid, so we had to roll 'em over just so I could wear 'em. It seemed that this just made my whole day just to be able to go fly fishing."
While subsistence hunting is less common than it once was, Graham notes that it continues to be a valued and useful survival skill.
"A lot of people historically have depended on the meat. It is not such an issue today, but it is a part of their family heritage. They do eat the meat and they like the meat … Some people still have that heritage of this being a survival skill. For some it probably still is; for some it might not technically be, but still ingrained in how they grew up; that's a reason to keep doing it. They have a freezer full of meat, that's reassuring to them and they quite like elk meat."
In Wyoming's there is a rich oral culture surrounding hunting and fishing that has often been passed down within families. Graham and the UW American studies students collected hunting and fishing lore, which they recorded for posterity and inclusion in the exhibition.
The exhibition was created through partnerships with Wyoming's hunters, fishers, and gear makers. In addition to showcasing their art, the exhibition featured a series of gear making demonstrations funded by the Wyoming Humanities Council.
Research and materials from the Art of the Hunt fieldwork and exhibition are archived at the UW American Heritage Center, where they continue to showcase the breadth of Wyoming's hunting and fishing culture.