Through writing workshops, book clubs, and a series of public lectures, Boom or Bust: A Collection and Study of Energy Narratives explores the impact of the energy economy on life in West Texas' oil-rich Permian Basin. Led by Rebecca Day Babcock and Jason Lagapa of the University of Texas–Permian Basin, the project encourages local residents to consider their experiences of economic growth cycles and downturns in and around the region's oil fields.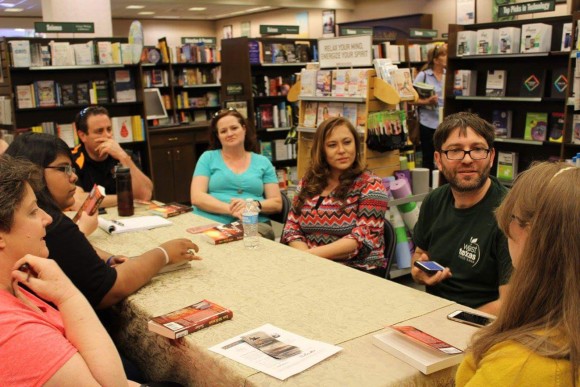 Booms and busts affect everyone in the Permian Basin. "It's pretty palpable," Lagapa says. In times of economic growth, the energy of the city changes profoundly. The population increases; pickup trucks and four-by-fours with out-of-state license plates become more common, and their owners fill stores and tighten the housing market. Big rigs delivering sand, water, and other materials cut through town. Money flows in the service industry. Families become better able to afford things. In economic downturns, all of this reverses.
The writing workshops, book clubs, and public lectures represent three related ways of exploring this experience, Lagapa says: "Having the three approaches accomplishes this by giving people an outlet to convey their own stories, to read the fiction and non-fiction about the economic situation of boom and busts and about the energy industry, and to hear what established scholars might say about the energy industry."
"Ideally, the three [approaches] fit together to offer an understanding of our community's role within the energy economy, as consumers, as producers, and as citizens of the region," Lagapa adds. "It is through the lens of the humanities that this role becomes particularly legible."
Lagapa usually begins writing workshops with a ten- or fifteen-minute writing session, where he prompts participants to recall their personal experiences of booms and busts.
"I usually start by offering them one standard question that stays the same," Lagapa explains. "Please describe a scene or experience from work in whatever field—oil industry, food service, banking, wind turbines, education, etc.—that captures the mood of either a boom or bust cycle. How were your working or living conditions impacted directly or indirectly?"
Participants then workshop their writing with Lagapa, reading aloud and commenting on each other's work. The results have been featured on West Texas Talk, a program on KRTS 93.5 FM Marfa Public Radio.
"[U]nderstanding... our community's role within the energy economy, as consumers, as producers, and as citizens"
Book clubs focus on books that discuss the oil industry or booms and busts in the economy, like Upton Sinclair's Oil! and John Steinbeck's Grapes of Wrath.
Another novel, Deborah Moggach's Tulip Fever, prompted a particularly insightful discussion."It's about the tulip market in the Netherlands in the 17th century. For me, it was really interesting to talk about parallels between different markets," Lagapa says. "Tulips and oil are completely opposite. The thing that I learned from the discussion is that whatever the market is, there is something infectious or contagious about speculation."
Over two years, the public-facing speaker series has brought scholars Stephanie LeMenager, Dominic Boyer, and Cymene Howe to campus to discuss energy and environmental challenges from a humanistic perspective, complementing and adding perspective to Boom or Bust's exploration of the energy economy's profound role in economic, social, and cultural life in the Permian Basin.