South Florida's fate has always been bound with its climate, which has been a major draw for residents and tourists. As rising sea levels impact life in the region, Ecohumanities for Cities in Crisis: Conversations for Miami's Future—a project based out of Florida International University—worked with a range of partners to generate community conversations over the course of 2016-2017 about Miami's changing climate. Project Director April Merleaux—now at Hampshire College—explains: "The goal of the Ecohumanities for Cities in Crisis project was to put environmental activists, artists, and humanities scholars in conversation with the general public around questions of climate change, sea level rise, and adaptation in Miami."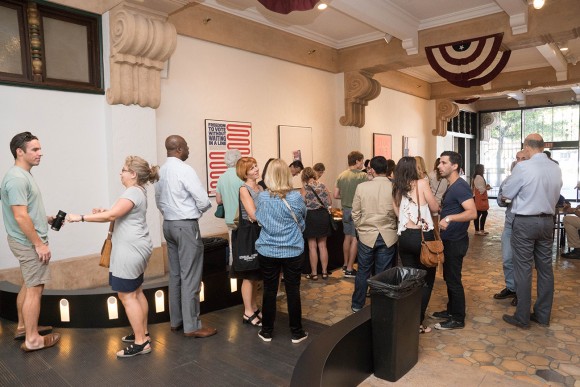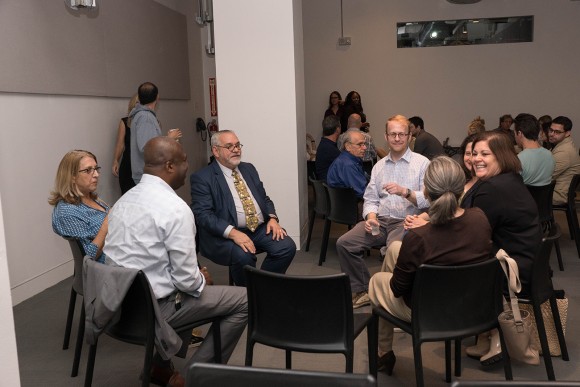 There have been a number of public efforts to address climate change in Miami, Merleaux notes. These efforts involved planning officials, engineers, and scientists at the research universities in Miami. "The scientific community is thinking about ecological and technical processes and ways that those issues might be addressed," Merleaux explains. "Then there's also a social scientific and public policy contingent of people, who are thinking about the policy implications of those things—but what there really hasn't been as much of… are these more open ended discussions about what kinds of values might guide the decision making."
This is where Ecohumanities for Cities in Crisis has intervened, beginning conversations across communities in Miami about who makes these decisions and how they are made.
"The thing that the humanities can do is offer a way for people—particularly people who might not come into conversation with each other otherwise or who might not have seen themselves as environmentalists or engaged in environmental issues—to start to think about what it means to be in this environmentally vulnerable place," Merleaux explains. "What does it mean to be in a place that is a city built around migration? [Miami is] a city built around global migration, some of which are migrations in response to environmental catastrophes—and then to potentially be facing another kind of migration out of this place as it becomes uninhabitable?" Conversations focused on how Miami can respond to challenges, Merleaux continues. "We were having conversations that were not necessarily solutions-focused conversations, but conversations that were more about values and ideas and ways of thinking about communities and selves in relation to the environment."
Events followed the same basic formula. "Every event needed to have at least one humanities scholar, usually more than one," Merleaux says. "Every event had to have at least one person who kind of thought of themselves as an environmental activist in some form and at least one person who thought of themselves as an artist." To facilitate conversation, Merleaux explains that university-based participants engaged as community members. "I really encouraged them to think of themselves as being members of the community, equal participants in the discussion yet equal participants who had a particular kind of contribution to the conversation."
"Successful public humanities programming has to be about facilitating conversations and not about transferring information or knowledge."
In partnership with cultural institutions around Miami, Ecohumanities for Cities in Crisis brought these questions to different communities with themed panels and discussions. Working with different community partners helped Merleaux and the project team craft and promote programs that would reach and appeal to different communities in diverse South Florida. "Each of the programs would be slightly different in that it was somewhat tailored to the particular strengths of each of the partner organizations, Merleaux explains." At Vizcaya Museum & Gardens, local environmental humanities scholars discussed the role arts and culture can play in the exploration of attitudes towards climate change. Edda L. Fields-Black lectured and facilitated a community conversation on living with nature in the African diaspora at the Hampton House, a historically preserved motel that was a venue for African American musicians in the Jim Crow Era.
Leading this project has enriched Merleaux's teaching. "I've used some of the discussion techniques in classes," Merleaux explains. "I also just taught a course that was very much inspired by the project. It was sort of a condensation of the various ideas that have been bouncing around in my head since I did the project." It has also helped Merleaux appreciate the importance of conversation in public humanities programming. "I really feel so strongly that public programming around the humanities has to decenter the expert on a stage," Merleaux notes. "Successful public humanities programming has to be about facilitating conversations and not about transferring information or knowledge."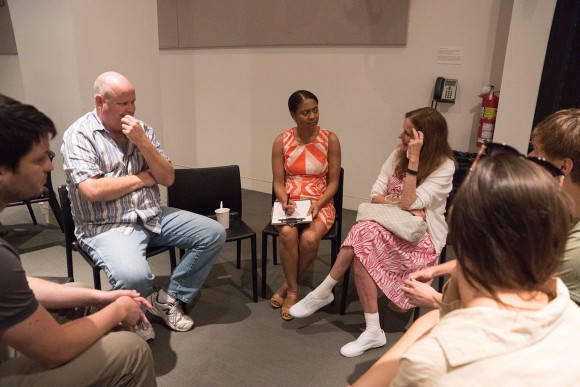 In this connection, humanities scholars need to find conversation topics that people are having or need to have. "There often are these issues that are clearly very vibrant, hotly discussed local issues. You can sort of identify these issues by whether there are other people in other disciplines working on them." Merleaux notes. "So in this case, there are lots of scientists and lots of public policy people thinking about these questions like sea level rise and climate change. But humanities scholars have not yet really claimed a place. And so I would say this was one of the things that really made for the success of this is that there was lots of interest and very little of it was coming from a humanities perspective. It was a really unique opportunity to show what kinds of things humanities scholars can do and say and what kinds of conversations can be facilitated."