The push to digitize collections of cultural heritage has increased access to important, diverse, and often remote and delicate materials—but it comes with a risk. Scanned items of cultural heritage can be easily lost when misidentified or when not identified at all. As digital collections grow, it is imperative that every digitized object be tagged with accurate descriptive information known as metadata. This need inspired Tiltfactor to create Metadata Games, a free and open source gaming platform that crowdsources cultural information about diverse digitized historical texts and images.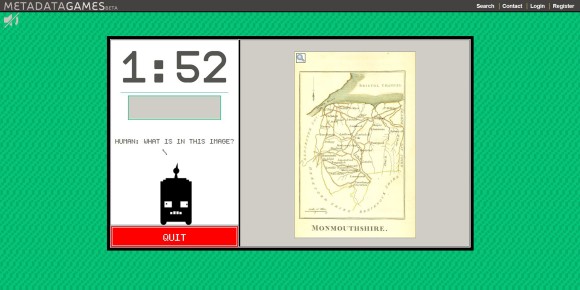 Metadata Games leverages the power of play and crowdsourcing to help manage digital collections, Tiltfactor Director Mary Flanagan explains.
"Metadata Games is a collection of games that features archival materials in unique ways and that engages the public to play with the materials in order to learn new things about them," Flanagan notes. "As people choose or type or do other kinds of interactions, it becomes part of the history of that image or text file so that we know more about our archives."
When archives contain materials from minority and non-dominant communities, the risk of loss or misidentification of digital objects is especially high.
"There are massive amounts of things being digitized by libraries, archives, and cultural institutions, for which we just don't have information or we have culturally skewed information," Flanagan says.
To ensure the accuracy of the diverse collections that are growing online, it is critical to engage with as broad a spectrum of contributors as possible.
"We really need contributions from the diverse public in order to know more for everybody's sake about what's in our archives," Flanagan continues. "Everybody's voices can be brought into the mix, which is a phenomenal opportunity technology allows to happen…. It's really a chance to expand and to be inclusive about our own history."
In order to leverage the wisdom of diverse crowds, Metadata Games offers multiple game options that will appeal to different types of players.
One Metadata Games game is Stupid Robot, which asks players to describe archival images using words of different lengths (four letters, five letters, etc.) to "teach" an avatar of a robot.
"Stupid Robot looks at everything but understands nothing," the game instructions explain. "Can you help?"
Players are presented with a picture from a participating archive. Players "teach" the robot by describing what they see in the picture using words of varying lengths. Points are awarded for each character of each word of four to ten letters, but players can use only one word of each length for every picture.
"We really need contributions from the diverse public in order to know more for everybody's sake about what's in our archives"
In all Metadata Games, each word players submit becomes a part of the image's metadata—weighted according to the frequency with which it is used by different players. It becomes possible for the image to be searchable by these terms. In doing so, players help to preserve and to make accessible these digitized items of cultural heritage. Metadata Games shows the potential of crowdsourcing to solve this growing difficulty.
For those who prefer contemplation and investigation, there are games such as Zen Tag. In Zen Tag, players are presented with scanned images from a range of partner cultural institutions. Players earn points for describing the images as accurately as possible, using phrases or individual words separated by commas. Without any restrictions, players are awarded points for detail and get the opportunity to think deeply and explore what they see from the archive.
The project is open source and available for play and use on the project website. If you're interested in supporting Metadata Games (and the stupid robot) preserve cultural heritage, visit the Metadata Games website.