Several organizations and political movements on the island of Guåhan, known also as the U.S. territory of Guam, are devoted to re-establishing Guam as an independent nation governed by the CHamoru people in order to address the challenges that stem from a lack of political autonomy. One such organization, Independent Guåhan, has been working since 2016 to reclaim their sovereignty by educating, uniting, and empowering the CHamoru people.
Tiara Na'puti, a CHamoru (familian Robat & Kaderon) scholar from Guam, has returned to the island every year for over ten years to work with a number of organizations committed to independence and environmental justice for Guam. In 2016, she began to collaborate with Independent Guåhan on efforts to disseminate their message of independence throughout the island. An assistant professor in the Department of Global and International Studies at the University of California, Irvine, Na'puti's academic research focuses on the military buildup in the Pacific and how it relates to the political status, sovereignty, and climate issues in the region. After years of volunteer work with Independent Guåhan, Na'puti applied for and received funding as a Mellon/ACLS Scholars and Society Fellow to spend 2021-2022 in residence in Guam working with Independent Guåhan to carry out a project entitled Sovereignty & Climate Change in Guåhan: Creating Sustainable Futures (CSF). The project is committed to addressing the urgent intersecting challenges of climate change and democratic governance on Guåhan, and is designed to advance Independent Guåhan's mission by developing humanities resources and programming that make the case that political independence is the best course for creating a sustainable future.
Working collaboratively with artists, activists, and educators, the project produces music concerts, visual art, zines, webinars, workshops, podcasts, qualitative reports, and community meetings to educate the public about the benefits of political sovereignty for the island and the impact it would have on environmental sustainability and cultural heritage preservation. Na'puti, Independent Guåhan members, and the others they work with form a core group they refer to as Kulo', which is translated as conch shell. The Kulo' is significant to CHamoru culture for its historical role in calling people together and informing them of important issues. The Kulo' involved with Creating Sustainable Futures are gathering people together to inform them of the importance of political independence Na'puti explained:
"The blowing of the Triton shell, it's kind of an arrival. And we're using that idea with our first zine on decolonization. Tomorrow, it will be self-determination."
The resources they create draw historical and cultural connections between Guam's political status as an unincorporated territory of the United States and the island's ability to make decisions about its future, particularly around climate change and its cascading impacts. To be sure, Guam has a fraught and violent political history dating back to the beginning of Spanish colonization in 1521. Following centuries of Spanish colonial rule, Guam was occupied by the United States in 1898, and, with the exception of a few years during WWII when the Japanese occupied Guam, has remained a non-self-governing territory of the United States. Since U.S. colonization, the military has used Guam as a site for military training and testing, activities that have a devastating impact on Guam's land, air, water, people, and culture. Yet, as a non-self-governing territory, Guam does not currently have the political sovereignty to prevent military testing on its lands, nor does it have access to important resources that are available for sovereign states to combat the effects of military testing and climate change in the region.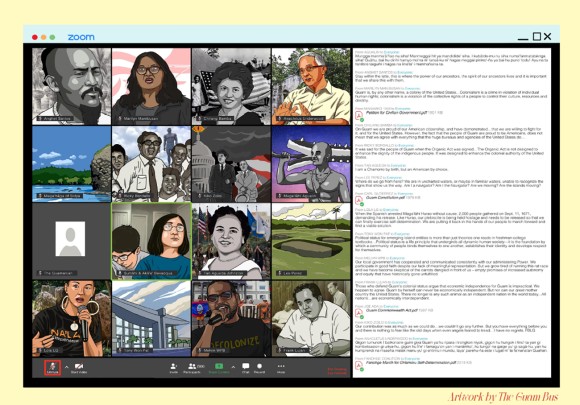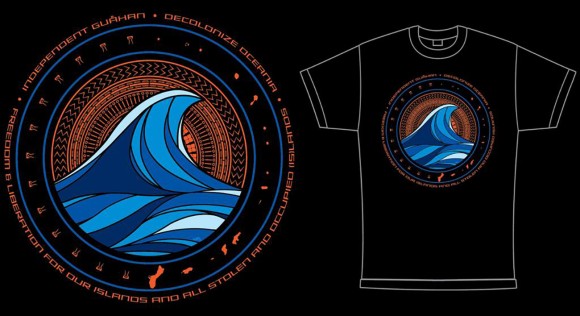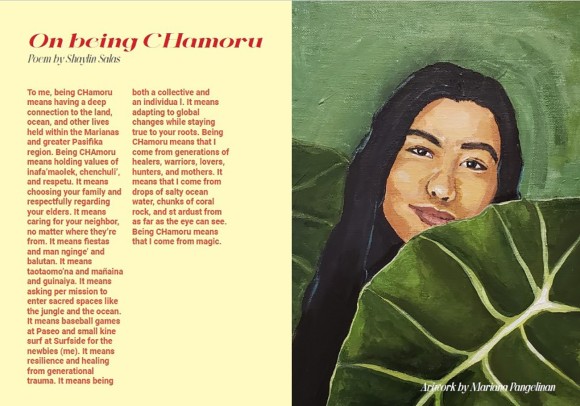 The Kulo' are always thinking intentionally about the most effective methods to communicate their message across different demographic groups. The varying methods they use complement each other, with one providing an entry point for another, leading to deeper engagement with each topic. "I think an important thing about the humanities is to come up with creative ways of communicating and conveying what are the issues that we are dealing with, because 'sovereignty' is a word that doesn't roll off the tongue, and neither is 'decolonization,'Na'puti explains. "We want people to feel comfortable, not only thinking about but also sharing these ideas with others because that's the way that decisions happen when they occur. Being able to talk to elders or family members or friends about these things, and not have it seem so overwhelming."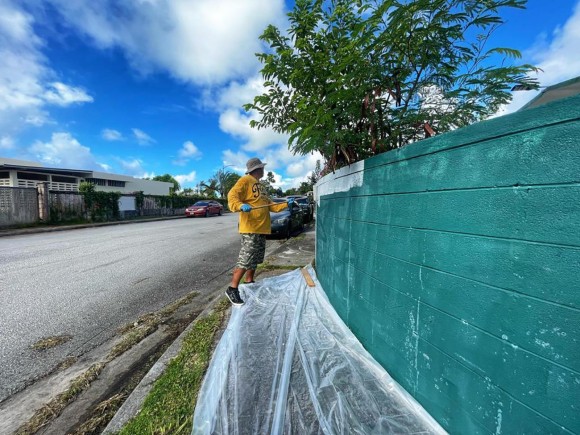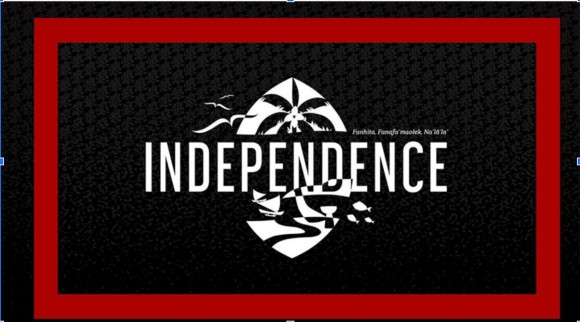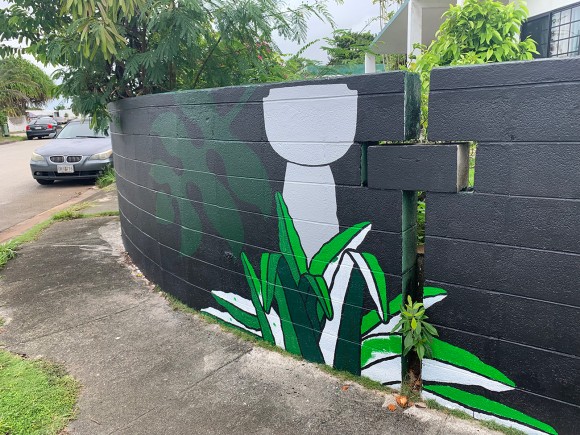 The Kulo' Zine, published in the Spring of 2022 in both print and digital formats, and a mural project led by the Kulo', are two examples of easily digestible formats that engage the community and introduce the topic of sovereignty. To gather material for the zine and bring people together to showcase their perspectives, CSF solicited an open call for contributors, accepting images, poems, and writing on what independence for Guam could mean. CSF printed and distributed the zines in local shops and around the island for free. The zine format provides a way for CSF to create and sustain relationships with shop owners and to spread the word to places that might not seem like a natural fit for a sovereignty movement. The murals, spread throughout the island, highlight climate warriors, women, and youth climate supporters organizing in their schools to talk about climate issues in the Pacific. Providing a visual way to communicate issues and information that often feels overwhelming in other formats, these murals can serve as a bridge into deeper discussions and further learning and action on the topic through other mediums.
Funding from ACLS for CSF allowed Independent Guåhan to continue to do outreach and bring people together during the pandemic at a moment when traditional forms of in-person gatherings were not possible. Since its inception, Independent Guåhan has held monthly general assemblies to bring people together for the purpose of opening up space for decolonization conversations, to share food and discussion with family members, friends, and broader networks, and to provide general information about self-determination and sovereignty for Guam. When the pandemic forced a pause to hosting these assemblies in person, the ACLS funding supported Independent Guåhan's transition to online meeting platforms. As Michael Lujan Bevacqua, co-chair of media and development at Independent Guåhan, explains, "The support from this fellowship/grant has supported our efforts to develop strategic plans and team-building by supporting a retreat for our Kulo' (core members). It has also helped us enhance our virtual, distance and online capabilities by supporting live streams, virtual teach-ins and the Fanachu! podcast, allowing us to purchase equipment and software." As a result, Independent Guåhan was able to continue the work of community building that Na'puti explains is at the heart of Independent Guåhan:
"We're excited about the work. We want to be in community, we're in relation with people, we're trying to build these networks and maintain them for a sustainable future. And that's justice work. That's work that higher education can, and is in a lot of ways, supporting and it's value added to everybody's lives."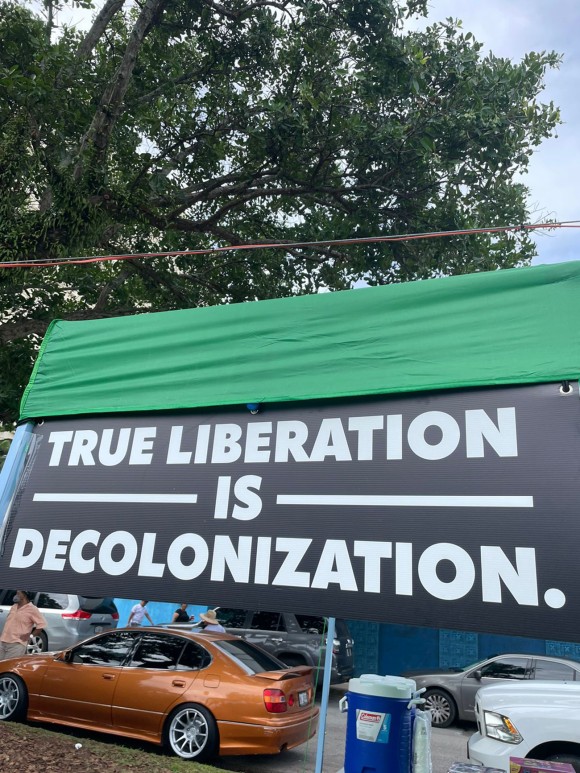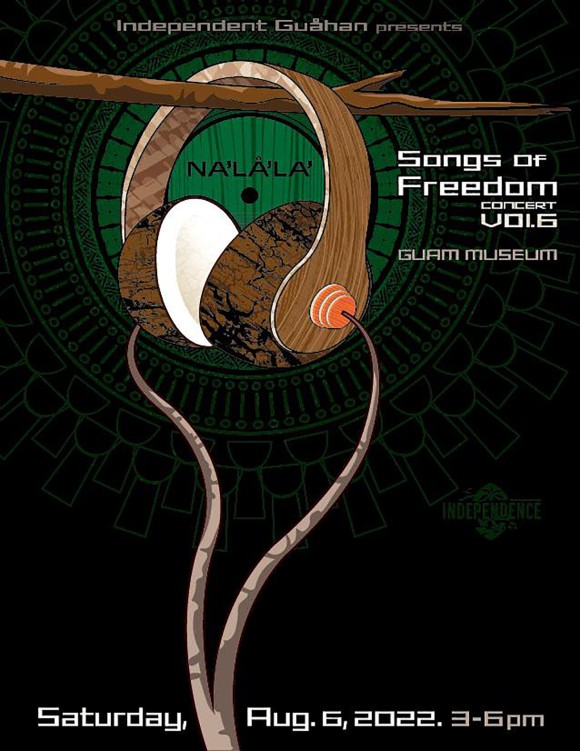 As co-chair of Independent Guåhan's educational development team, much of Na'puti's work includes thinking of ways that educators can use the material CSF creates as entry points for student discussions about sovereignty. She collaborates with teachers to create curricula that can use clips from webinars or visits to a mural to introduce students to topics and to get them to think about independence in digestible ways. In addition, her work includes engaged research initiatives, such as Independent Guåhan and CSF's contributions to the multi-volume, self-determination study,"Giha Mo'na: A Self-Determination Study for Guåhan," organized and published by the Guam Commission on Decolonization. She is also preparing an edited volume tentatively titled Detours Guåhan that will use the popular guidebook format to address Indigenous issues and urgent community challenges brought about by the island's political status. While the study is invaluable and the first of its kind and the edited volume will add tremendous value to academic understanding of issues in the Mariana Islands, Na'puti knows that due to their highly academic nature, their audience is limited. The educational development team works to bridge the divide between academic studies and publicly available educational materials by working with teachers to create curricula with their material that makes thinking about sovereignty accessible.
With ACLS funding, Na'puti is also identifying opportunities to enhance doctoral education opportunities in Guam and in the continental U.S. The University of Guam is one of the main four-year institutions in the Marianas and the Micronesian region, but it does not have a PhD program. Na'puti is excited to think about how engaging with community organizations can be useful to supporting doctoral education on Guam and on the mainland, and, in conjunction with ACLS's goal of expanding public humanities opportunities for doctoral students, can create infrastructure that brings community organizations and higher education together to help doctoral students develop their own community based research projects on Guam and in the diaspora. She is also in the early stages of teaming up with the Los Angeles based organization Empowering Pacific Islander Communities (EPIC) to cultivate undergraduate and graduate student leadership initiatives and to train students to work with their communities to build their own political power. "We're tackling all these different elements of self-determination and sovereignty and climate change, they are seeing all these issues, or any one or two of them, really resonating with them for an area of study that they might not be able to get training for in the region," Na'puti explains. "But what if they could do it somewhere else? And then bring that back to their community? What could that look like?"
Across the creative, artistic, and educational programs offered through Independent Guåhan and CSF, Na'puti recognizes the power that higher ed-based public humanities initiatives have to nourish community knowledge and bolster the mission of independence for Guam. "You have to have an orientation, but you also have to have hope," Na'puti says. "I think the public humanities aspect of things allows us to flourish in a way that we can do both. It doesn't always have to be about educating about social justice through the ills and the problems of injustice, it can be about demonstrating the revitalization and the cultural activities and practices that have been been going on forever, in a way that's important and in line with what universities have done, but not always what universities have committed to and showcased."