Blog Post
Exhibiting Collaboration in Boston's Chinese-speaking Neighborhood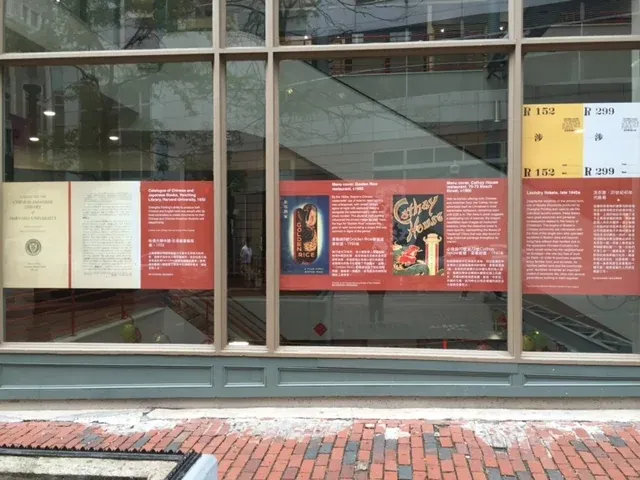 Projects that bring the resources of community organizations and universities together offer the potential for innovative, locally-based advocacy and engagement. Tufts University's Jonathan M. Tisch College of Civic Life has been involved in such partnerships in greater Boston for decades, working with local partners in areas of equitable housing, health care, access to technologies, and educational opportunities. The Program in Public Humanities was created at Tisch in 2015 and chose to locate its inaugural project within a community where Tufts had a considerable history: Boston's Chinese-speaking neighborhood. The University's health science programs—medicine, dentistry, and public health—were located in the southern portion of "Chinatown" and had come over a number of decades to transform a once contentious relationship into one more equitable and mutually beneficial. In imagining its first humanities-based project that could participate in meeting a community need, Tisch partnered with the Chinese Historical Society of New England (CHSNE). In conversations with many civic and cultural stake-holders, we learned of ongoing advocacy for the return of a "Chinatown branch" of the Boston Public Library. Although the last one closed in the 1950s—after serving the community for sixty years—there always remained interest from the community around securing a local library, and we learned that there was a renewed current vibrancy for it, especially among high school and college-age residents.
Tisch's contribution to this effort was a public-facing exhibition, presenting a series of large, bilingual window panels on two prominent buildings in the neighborhood. The imagery, digitized material from the CHSNE collection, included photographs, documents, restaurant menus, and laundry tickets. The focus was a century of reading (the original library branch there opened in 1896), writing, and printing in Boston's Chinese community, and chose what we thought was an apt title for the installation: "These Words." On view to literally thousands of passersby in the summer and autumn of 2016, its content remains accessible in an archive on the CHSNE website. Our installation was selected to be profiled among the Humanities for All projects in public humanities, and is the subject of a chapter in the recently published Doing Public Humanities (Routledge, 2020), edited by Susan Smuylan, who contributed an earlier Humanities for All blog post that introduced this collection of essays. It also provided a precedent for a similar exhibition, also using window installations, that documented the history of the Chinese communities in Providence. But the project's most enduring legacy was undoubtedly the 2018 return of the neighborhood Boston Public Library branch, located in the same building that houses CHSNE and on whose windows displayed "These Words." The current site for the library is temporary, as it will eventually find larger quarters nearby. But most importantly, its continuation for this community has been reestablished and a new century of readers and users has begun.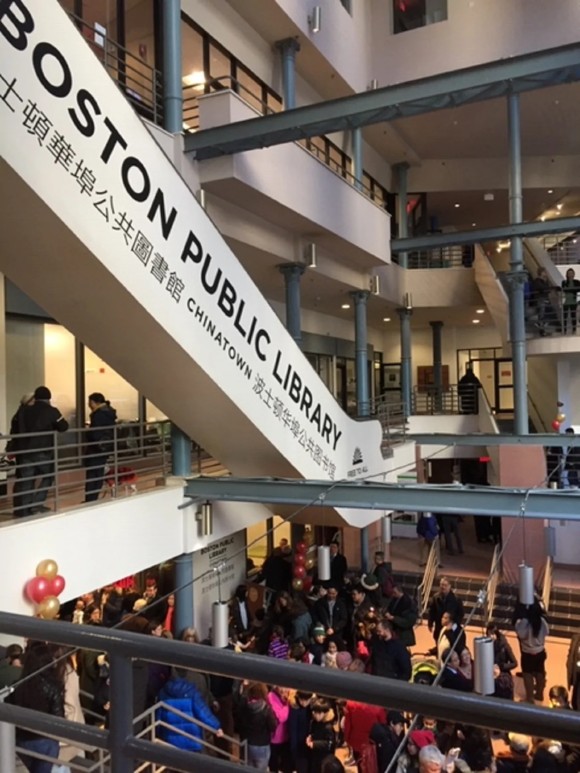 It is common to speak of making archives accessible; a rather traditional humanities modality such as an exhibition can activate historical records, making them compelling participants in contemporary advocacy. The holdings of CHSNE offer future opportunities for our collaboration to examine the many facets of the Chinese American experience in Boston, and throughout New England. With public-facing and online exhibitions, we hope that CHSNE will be able to reach a much wider audience, providing insight into what has been largely inaccessible until now. So far, our engagement capacities during the COVID-19 pandemic have proved to be positive, as we transitioned to online programming. Sharing stories, remembering experiences, and learning new aspects of familiar faces' lives have been a respite to the isolation felt both in our communities and far beyond. Remote access has allowed us to be more flexible, and to receive feedback in real time on topics of interest for the community and how to make more of our programming accessible.
In 2020, CHSNE was honored to receive the collection of the late Tunney F. Lee, a long-time professor of urban planning at MIT, an architect, and a preeminent historian and advocate for Boston's Chinese-speaking neighborhood. His archive spans the entire history of the city's Chinatown, touching upon nearly every facet imaginable: immigration, women's history, educational experiences, housing and architecture, and labor practices (especially in the local restaurants and laundries), among others. His collection will be used as both a stepping stone and catalyst for researchers and interested members of the public, with detailed maps, census data, photographs, and his extensive notes. At CHSNE, we hope to be able to process this collection fully by the fall, and use it to create a new exhibit with our colleagues at Tisch College that will highlight the ideas of "change and endurance." This is something that Professor Lee himself underscored in his own monumental project, the Chinatown Atlas, on view in the China Trade Building, in front of the CHSNE office (and next to the library branch), and online.
We are delighted that the neighborhood branch has finally returned after years of community advocacy and engagement, and look forward to future collaborative projects that enable public humanists to participate in current advocacy for local change and equity. The effects of the pandemic have been profound here, resulting in significant job and housing insecurities. These are issues that were of great importance to Professor Lee and one cannot imagine a more fitting welcome of his archives to his neighborhood than to create an installation that brings both the historical and contemporary lives of its residents forward. Our institutions anticipate continuing our partnership in the spirit of contributing to this form of archival activism.
Diane O'Donoghue is the Director of the Program in Public Humanities at the Jonathan M. Tisch College of Civic at Tufts, on the faculty of Civic Studies there, and Visiting Professor of Public Humanities at Brown University.
Brianna Allen is the managing director and archivist for the Chinese Historical Society of New England.