Blog Post
History and Performance Collide: the Peabody Ballroom Experience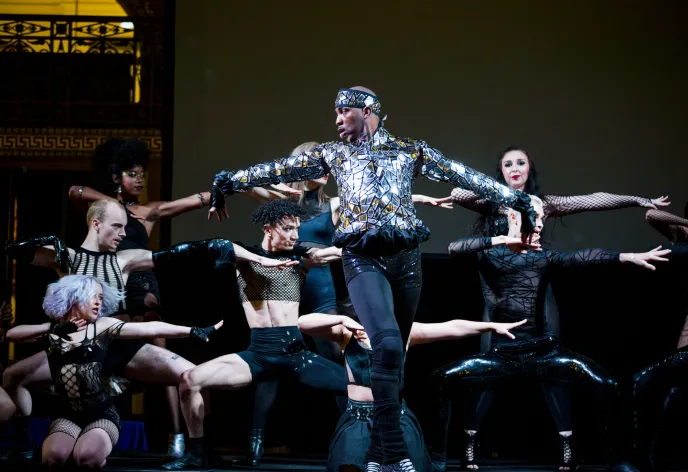 The ballroom scene is a nearly century-old performance-based culture composed primarily of queer, lesbian, trans, and gender non-conforming artists of color. Recently popularized by the television show Pose, ballroom consists of chosen families, or houses, and the opulent performance competitions they produce. Ball competitions are more than spectacles of creativity and fabulousness; they are also rituals that call forth and renew black and LGBTQ cultural traditions. The electronic music derives from modern progressions of the African drum, and is influenced by blues, jazz, gospel, and funk. Voguing, an improvised dance form, is influenced by a variety of black diasporic movement practices. The gender-bending costumes stem from the extravagant drag balls staged in U.S. cities as early as the 1890s. Ball commentators, or masters of ceremony, are griots: storytellers and living archives of the community's cultural knowledge. The ballroom scene mobilizes performance as a system of learning, storing, and transmitting knowledge, referencing the past to renew a queer, anti-racist public in the present.
In 2018, I worked with ballroom leaders to launch the Peabody Ballroom Experience, an unlikely public humanities collaboration between Baltimore's ballroom scene and Johns Hopkins University, an elite, majority-white university in a majority-black city. As project coordinator, I mobilize my positionality as a white, queer person with institutional privilege to redistribute resources from inside the university walls to outside of them; to act as a mediator between Hopkins and ballroom, two publics with radically different levels of access to power; and to advocate for the value of knowledge produced through minoritized publics and practices, particularly performance. By taking performance seriously as a repository of knowledge and history, the project expands what the public humanities can look and feel like. Over the past five years, with funding from the Mellon Foundation, we have recorded more than a dozen oral history interviews; archived ballroom ephemera; produced three documentary films; held public film screenings and dance workshops; co-taught undergraduate courses; and, most dramatically, staged three epic ball competitions at the opulent George Peabody Library. At these events, ballroom artists interpret and reimagine the Library's historic collections through costume and stylized performance.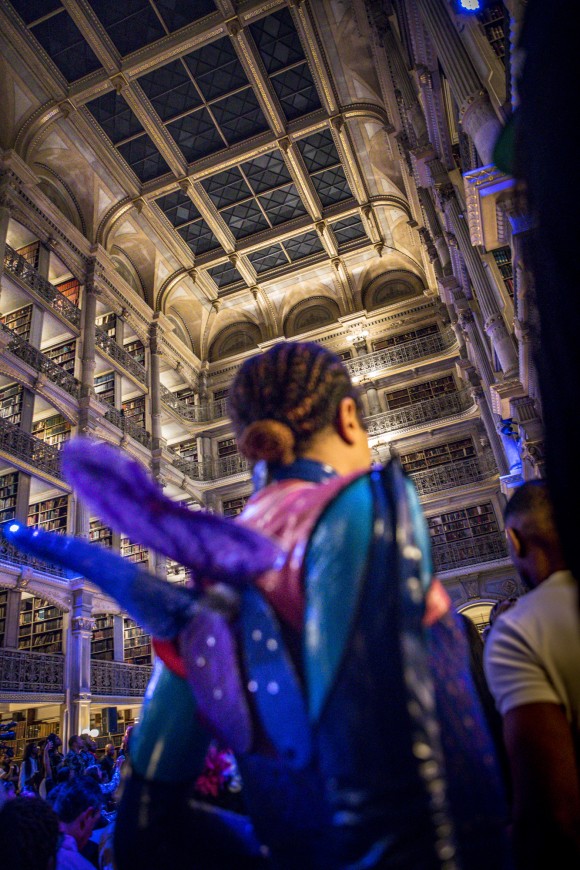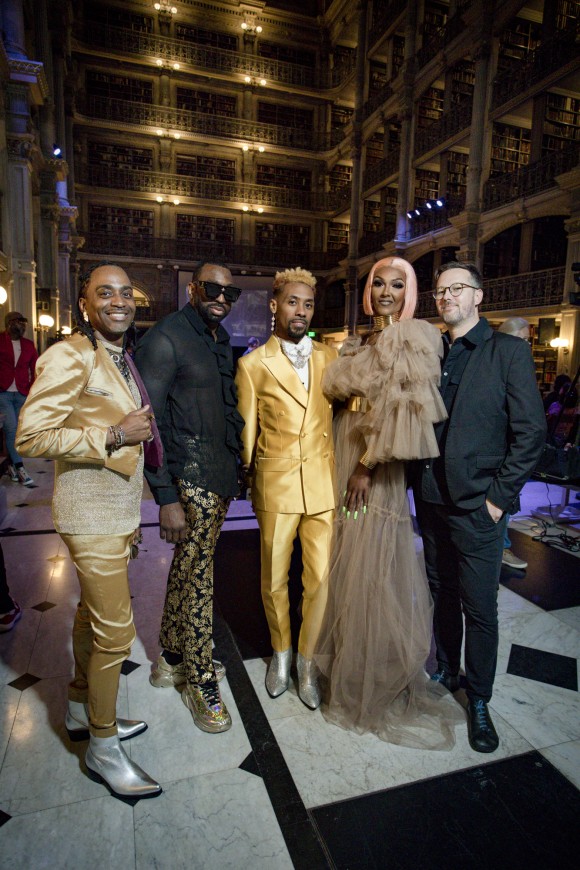 History and performance collided on Saturday, April 15, 2023, when more than three hundred ballroom artists and guests gathered for our third ball competition. Titled "Baltimore Beautiful Symbols," the ball honored "the trailblazers and blueprints—the 'royalty'—who paved the way for Baltimore's ballroom scene." For months leading up to the event, I collaborated with four ballroom leaders—Legendary Rhonda Carr, Icon Enrique St. Laurent, Legendary Marco West, and Icon Sebastian Escada—to curate more than a dozen competition categories that showcased Baltimore's ballroom history while also drawing inspiration from the George Peabody Library's historic collections. We asked competitors to pay homage to Baltimore's Legends and Icons as they brought to life a selection of the Library's rare books. The Library itself—with its soaring atrium, tiers of cast-iron balconies and black-and-white marble floor—was a fitting backdrop for an eye-popping history lesson about Baltimore's ballroom scene.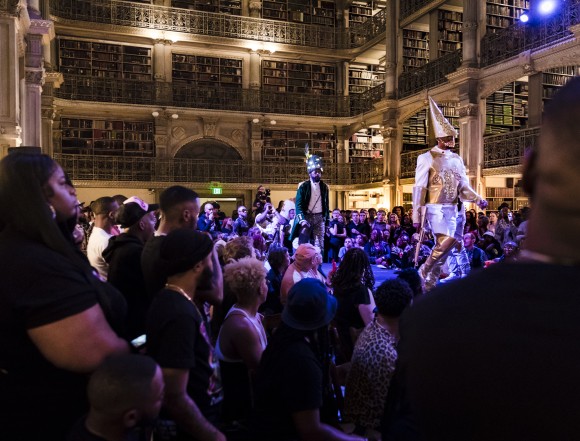 For over three hours, performers embodied the Legends and Icons who paved the way for those gathered in the Library. For the category "Femme Queen Perfect 10," for example, trans women competed for prizes in a category Rhonda Carr titled "Cleopatra" in honor of Baltimore ballroom legend Sabrina Icon: "a queen much like Cleopatra." In instructions circulated before the ball, Carr asked performers to "compel the judges" by "embodying" both Cleopatra and Sabrina Icon. As they competed, vintage YouTube videos of Sabrina Icon played on a screen behind the runway while the event commentators recounted her contributions and past performances, often chanting in sync with the DJ's signature beats. Another category, written by Enrique St. Laurent, required dancers to perform in the style of Baltimore legend Ricky Allure, embodying his "grace, antics and clever stunts." They were required to dress "as a mystical fairy," inspired by the Peabody Library's copy of Michael Drayton's Nymphidia: the Court of Fairy (1814). Every moment was referential, as performers embodied historical figures and fashion, putting modern takes on everything from the "Blood of our Ancestors" to the "Amazons." From the categories to the costumes to the rare books that lined the stacks, history suffused the event.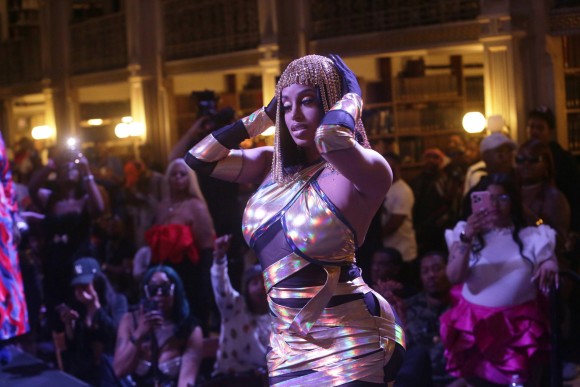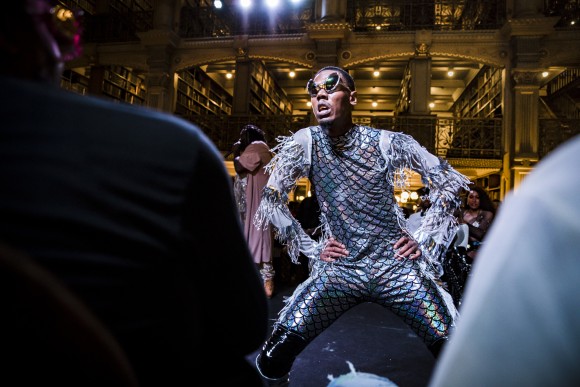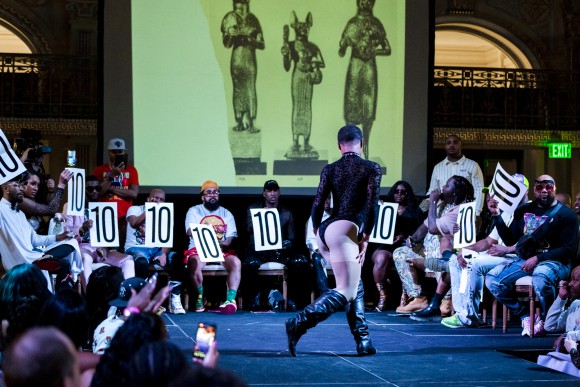 Among the few non-ballroom attendees were roughly twenty-five Hopkins undergraduates who learned about ballroom history, culture, and dance for weeks before the event. Marquis Clanton, an Icon in the ballroom scene, led five vogue workshops for students in the Peabody BFA Dance Program, beginning with the "history behind the movements." Clanton and students kicked off the ball with a gorgeous, choreographed performance. Students in my course "Queer Performativity" studied ballroom history for three weeks and attended a class session co-taught by Legendary Marco West. One student wrote that she appreciated the "deep past" that was on display at the ball. "It did not feel like a simple, one night event," she reflected. "It was part of a legacy of the many balls and performers that have taken stage in nights just like this." Another student reported that the ball "put all the things I've learned in class about the history of ball and its transformative power for the queer community into perspective." Being able to immerse herself in the experience "helped shape my understanding of the beauty of ball culture…and the work that goes into queer of color worldmaking." Learning about ballroom history enabled students to attend the ball as knowledgeable participants, rather than voyeurs, and to approach ballroom performance as a system of learning, storing, and transmitting knowledge.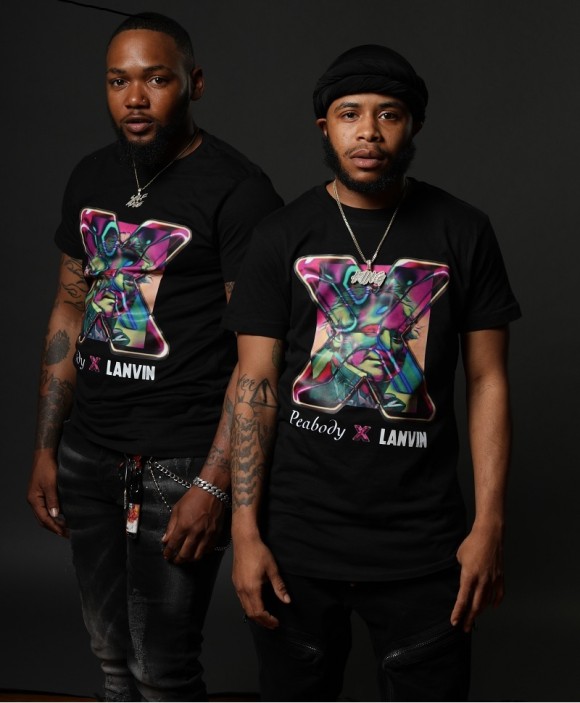 Our ball competitions are just one component of a public humanities project that continues to cultivate an exchange of knowledge between Johns Hopkins University and ballroom, reimagining knowledge production outside institutional norms by prioritizing methods rooted in minoritized publics and practices. More information is available at our multimedia website and on Instagram. To read more about ballroom culture and its history in Baltimore, click here.
Joseph Plaster is Curator in Public Humanities and Director of the Winston Tabb Special Collections Research Center at Johns Hopkins University. His research and teaching combine archival, oral history, and public humanities methods to examine the worldmaking practices of marginalized publics in the United States, with a focus on intersections of gender, sexuality, and race. His first book Kids on the Street: Queer Kinship and Religion in San Francisco's Tenderloin (Duke University Press, Feb 2023) explores the informal support networks that enabled abandoned and runaway queer youth to survive in central city tenderloin districts across the United States, and San Francisco's Tenderloin in particular, over the past century. To learn more, visit Plaster's personal website.