Blog Post
The NAME Project: Changing Clinical Practice Through Community Storytelling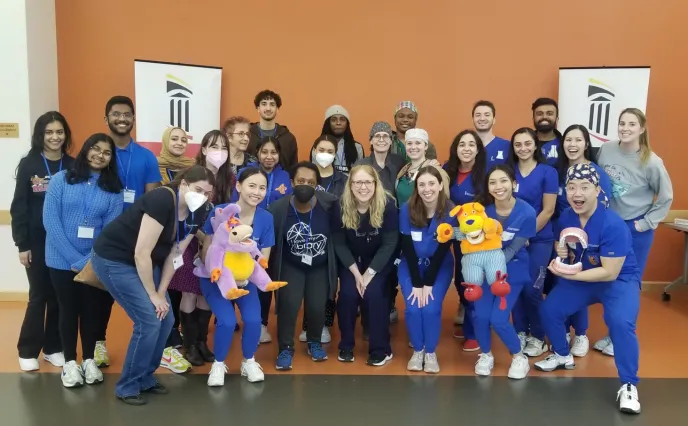 It starts like an old joke: What do you get when you put a dentist, a journalist, an English lecturer, and a librarian in the same room? In our case, innovation. The Narratives and Medical Education (NAME) project was born out of the global, national, and continuing social and racial injustices highlighted in 2020. Our response was to spotlight health disparities and social injustice from the lens of the public humanities by creating a series of health events across the Washington D.C. metro-area and Maryland public library system.
Like many people, we wondered what we could do to process and better understand world events, particularly their effects on our communities. So, by connecting our networks and disciplines, we saw disturbing parallels in health care in the stories of George Floyd, Ahmaud Arbery, and Breonna Taylor. We asked, "What stories do our students need to know in English, journalism, and dentistry? How might we better prepare students for the task of sharing those stories with the public and health professional schools, particularly as they move into their future careers?" The NAME project is focused on collecting and sharing the oral health stories of underrepresented minority communities across the United States with study sites in California, Indiana, Iowa and Maryland.
When we ask our students, notably those interested or going into health care, "Who was Deamonte Driver?", the response is usually silence. Deamonte was 12 years old when he died in 2007. His untreated toothache resulted in a fatal brain abscess. His mother, Alyce, could not find a dentist who would accept her Medicaid insurance. Deamonte and his family were based in Prince George's County, which is also the home of the University of Maryland College Park. When we think about health disparities today, stories like Deamonte's should be front and center, not relegated to the history books. Our preliminary research shows that although Deamonte's story led to policy changes that expanded oral health care access in Maryland (with Medicaid changes as recent as 2022) community members complain of three-to-six month waitlists to access care. The narrative remains the same—there are not enough dentists to serve communities in need.
To understand and address these long-standing and entrenched public health challenges, we look to the humanities as a way to provide both tools and inspiration.
Our project aims to encourage community storytelling with writing and journalism students convening with underserved populations at public libraries, gathering and sharing stories. Public libraries remain one of the few institutions in the U.S. open to all. They represent the heart of a community, bringing together all ages and backgrounds in one place. Many libraries have also played a pivotal role in connecting people to health information and how to access care. For the many Americans who might lack a computer and/or stable Internet at home, they turn to the library. There they find the resources they need and trusted individuals to help guide them to the right information. For underserved communities that might also have a sense of distrust in healthcare settings, public libraries are an ideal site to host health fairs that connect individuals and families with clinicians and dental trainees in a safe and neutral setting.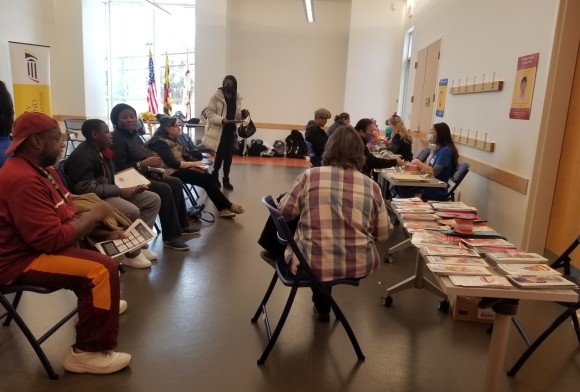 At a series of oral health fairs, University of California, San Francisco (UCSF) dental students shared oral and dental health information with adult visitors and read to children from dental picture books. Using large stuffed animals with friendly-looking teeth and smiles, the dental students demonstrated proper brushing and flossing and allowed the kids to take a turn. Meanwhile, journalism students worked to capture the activities and stories from the event. The events have had a tremendous response from the prospective patients, public libraries, and students eager to get out of the classroom and the clinic and into the community. At the Hyattsville Branch Library, over 212 attended the event on March 11, 2023. In Maryland, a second health fair is planned for April 22, 2023 at Long Branch Library in Silver Spring. In San Francisco, branch libraries hosted three fairs in different neighborhoods: the Haight's Park Branch Library, the Sunset Branch Library and the Chinatown Branch Library. In mid-April, the Visitacion Valley Branch will host a fair, and in late May, the Western Edition will host the final fair. The San Francisco dental health fairs, which attracted 30 to 60 participants each, were designed to meet the needs of people in particular neighborhoods, from local free clinics to bilingual speakers and resources.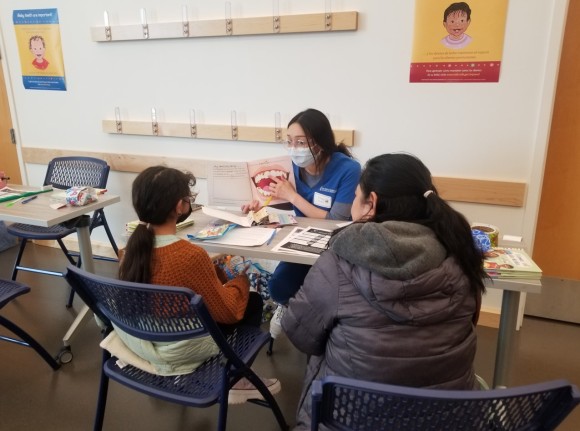 Through these health fairs, we are collecting the stories of underserved community members in accessing and receiving dental care. A woman who spoke just a little English came to the event with her partner and spoke shyly of the pain she had been living with for one month. She needed help now, she said. She could not wait three months for an appointment. The dental trainees spoke of one man who heard about the oral health fair and drove from Virginia to attend. "The need is so great," said Sheryl Syme, associate professor, Division of Periodontics, University of Maryland School of Dentistry (UMSOD), and Co-Principal Investigator of the NAME Project. "Some people just needed [a clinician] to talk to," she said.
Public libraries will play an additional role in helping to archive and disseminate these stories through the creation of an open-source database, where all can access the stories and add their own. Articles produced by our students will also populate this database. We aim to share this database with a variety of audiences: prospective patients and caregivers, who can use this information to make decisions around their own health care choices; clinicians, who can use these stories to develop ways to offer equitable care; and health professional/dental schools that can use the database content for curriculum development and training new providers.
Ultimately, storytelling coming directly from the community has the potential to change clinical practice through an infusion of narratives into health professional curricula.
--
Michelle V. Moncrieffe is a lecturer and transdisciplinary researcher at the University of Maryland, College Park. She is the Principal Investigator/Director of the NAME project. As well as being a certified health education specialist (CHES), Michelle was a health journalist for over two decades, her writing has featured in Baltimore Magazine, Johns Hopkins Health Review and local newspapers across the U.S. Michelle earned her MA in Journalism (with a focus on health communication) from the University of Iowa. Thereafter, she was a research associate for a global health project at the Johns Hopkins Bloomberg School of Public Health.
Eileen G. Harrington is a health and life sciences librarian with the University of Maryland, College Libraries at The Universities at Shady Grove. She is a Co-Principal Investigator of the NAME Project. Eileen has been a formal and informal educator in the U.S. and Latin America for over 25 years. She researches and writes about health literacy and libraries and informal science learning.
Dr. Laura Moorhead is an associate professor at San Francisco State University's Journalism Department and a researcher with the ScholCommLab at Simon Fraser University. She is a Co-Principal Investigator of the NAME Project. A former editor at PBS/Frontline World and Wired, she explores tensions between journalistic practices and ideals, particularly in regard to health and science coverage.
Important Disclaimer:
The NAME Project is supported by the National Institute of Dental & Craniofacial Research of the National Institutes of Health under Award Number R21DE032161. The content of this press release is solely the responsibility of the authors and does not necessarily represent the official views of the National Institutes of Health.