Blog Post
Public Humanities at the WPHL: Towards a New Methodology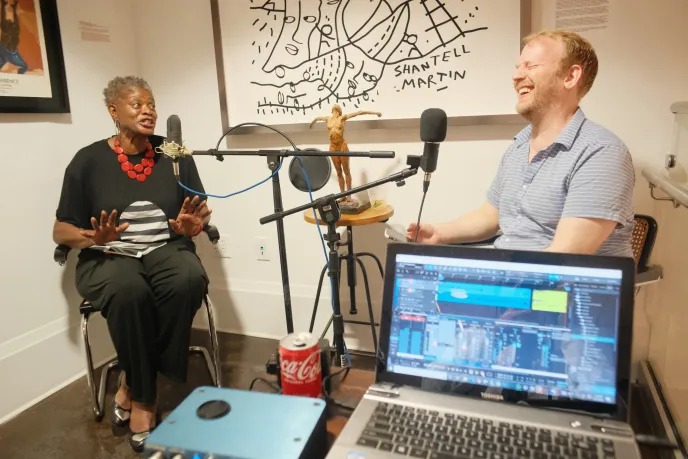 When the novel coronavirus pandemic first disrupted life as we knew it in March 2020, we did not yet have a website. The Wolfsonian Public Humanities Lab (WPHL), the hub for the humanities and public-facing and community-engaged work at Florida International University (FIU) in Miami, has been fundamentally and formatively shaped by the digital landscape and by the changes caused by COVID-19. In those first days and weeks the WPHL and its partners began to collect stories of the pandemic and interviewed leaders of cultural institutions about how they were coping. We also threw together a website (since updated, of course!) and got to work. We have not stopped since.
Collecting and preserving stories, in particular, seemed a clever idea at the time. In retrospect, of course, many had the same idea. No matter. Each set of stories complements the other, adding up to a series of layered narratives that reflect the deeply-rooted dual pandemics that exacerbated one another during that long spring, summer, and fall of 2020: COVID-19 and anti-Black violence. Like other venues, the WPHL formulated a multitude of responses, from weekly webinars with leaders of museums and other cultural institutions—both local and from across the nation—and a general call for documenting the process of healing, disruption, and change. With the help of our colleagues we equipped students with disposable cameras, for example, and invited them to (safely) document aspects of their days and nights under quarantine that they felt comfortable sharing.
Now almost two years later, we have been fortunate enough to secure nearly $6 million in grants from the Mellon Foundation, the National Endowment for the Humanities, and Florida Humanities, among others, that find us fulfilling and further expanding many of these core ideas and working with our communities in the Greater Miami area in a variety of ways. Themes have emerged from Black Preservation to Art as Social Practice to Community Story Gathering. Projects range from collaborative research to oral history collection, from celebrating and supporting local artists to digitizing long-lost newspapers and resources.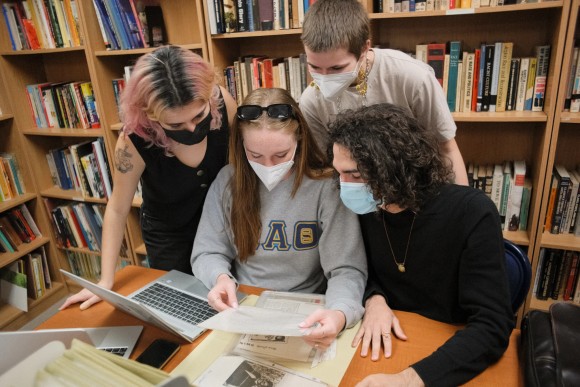 In each instance, and as a central tenet to our modus operandi, we reach outside of the walls of the university in hopes of creating meaningful and sustained relationships in collaborative projects that we hope will have an impact long past grants' reports are turned in and deadlines met.
Herein lies the rub. How do we do that? How can we ensure sustainable, respectful, and equitable relationships with partners outside of the university, when the university itself is such a behemoth, if relatively light on its feet? With the humanities both under attack and so scarcely funded, how do we ensure that the vision, impact, and tenets of these projects can exist in perpetuity? How, too, do we commit to sustaining these non-extractive relationships with our community partners, from galleries to archives to historical sites and museums?
This, we believe, is one of the many reasons that we need the public humanities, which we insist must be understood as a distinct methodology. It can serve as an approach to community engagement; it can help guide us in the facilitating and sharing of knowledge in an equitable, non-exploitative way. It is also, in essence, a vision for the redistribution of resources, making them more readily available and accessible to publics way beyond university walls. Public humanities challenges hierarchies of knowledge that are framed by the Enlightenment-era insistence on power residing in the hands of the few with access to resources and institutions of higher-learning, including public universities embedded within their communities, including FIU, the nation's largest Hispanic-serving institution.
Armed with analytical frameworks committed to decolonizing archives and knowledge production as well as privileging grassroots efforts that begin and center community-borne knowledge, public humanities flips the all-too-familiar script of the role of academies and universities in public life residing in an ivory tower far away from the neighborhoods that structure our lives.
We at the WPHL have been fortunate enough to work on projects that speak to this methodology and permit us to move from theory to practice. Perhaps the best example of this work is Community Data Curation: Preserving, Creating, and Narrating Everyday Stories. This three-year Mellon Foundation grant project takes as its starting point the preservation, creation, and narration of stories within a variety of communities in South Florida. The Mellon Foundation's Public Knowledges division values grassroots efforts at knowledge collection. Working with eight community partners based in South Florida, this project utilizes archival digitization, the creation of new archives through oral histories, and training and resource-sharing to better ensure that these initiatives are felt well beyond the duration of the grant. The eight partners with whom we work—from Stonewall National Museum and Archives to the Historic Hampton House, from the Museum of Graffiti to the African American Research Library and Cultural Center—drive the work and direct the stories that will be told and preserved. These efforts are designed to help ensure voices, many of which have been silenced or marginalized for generations, are heard, preserved on their own terms, and made available for and by the community for years to come. Training and assistance in digital technology are made symbiotically available as we and partner institutions work to reproduce efforts in the future, and new digital archivists and preservations continue the practice beyond the grant period.
"These efforts are designed to help ensure voices, many of which have been silenced or marginalized for generations, are heard, preserved on their own terms, and made available for and by the community for years to come."
The project's approach to working with our community partners reflects fundamental aspects of public humanities' methodology, with community partners taking the lead in defining their needs. In facilitating this network of cultural institutions, we chose to work with institutions small and large, deeply archived and without working archives, in our commitment to center the stories that are too often erased from or marginalized in grand narratives. The engagement of these partners involved a series of considerations on our part. Firstly, we were eager to work with institutions that represented a cross-section of South Florida with an emphasis on communities that have historically been marginalized, whether due to the violence of anti-Blackness, xenophobia, classism, sexism, homophobia, and more, or the (often interrelated) nation-wide underfunded nature of the arts and humanities. Moreover, the grant provides resources for networking among the institutions themselves to share best practices and create collaborations. One of the unexpected joyful outcomes of this Mellon project is that we find ourselves involved in a host of projects that represent and reflect the needs and goals of each institution, even beyond the grant itself. This web of cultural and arts institutions only makes all of our communities in Greater Miami stronger.
The very notion of this grant-funded project, "community data curation," reflects these aspects of public humanities methodology. It inherently acknowledges and takes its cues from the community's expertise and knowledge in a non-extractive way that aims to upend modes of violence, erasure, and unevenness that have long silenced and devalued some forms of knowledge over others. For example, when we first approached the Historic Hampton House to partner in this grant, their leadership's first question was about whether this would be a "one and done" proposition. How would we sustain the partnership and benefit the HHH in the long-run? One of the ways in which we were able to answer that question was through Mellon's generous impulse to allow each partner to purchase equipment that remains with them after the life of the grant. If they so choose, the HHH can continue to collect stories and build their digital archive. Public humanities then is "decolonial" in its approach to undoing the processes and power structures that have created the "unevenness" in knowledge production, the building of archives, and the making of historical narratives. In other words, the process requires actively listening, growing, and adapting in real time to reallocate the resources and platforms that have been historically safeguarded and restrictive to higher learning institutions—even large public universities like FIU, of course. Our discussions have always begun with partners' needs and vision.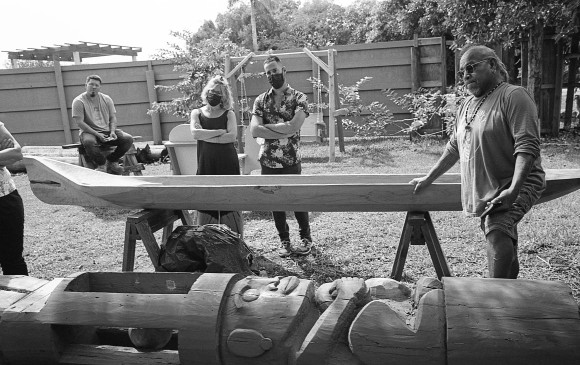 Indeed, in relying on relationships with community-focused partners, public humanities as a field imagines and even favors counter-publics that challenge hierarchies of knowledge and power so often created in library carrels or behind locked doors. These counter-publics, so often dismissed as peripheral or marginal to the singular narrative, are rather centered and drive the story. These two commitments—the diffusing of centers of knowledge and the primacy of community-led visions and efforts—when wedded together provide a framework for our research and work, as well as our teaching and learning and our interactions with local, national, and global publics.
Of course, we understand that it is by no means new to suggest that the very structure of archives reflects long-standing institutional and epistemological discursive hierarchies that prioritize white, heteronormative, and resourced narratives. And yet, Community Data Curation—which seeks to go beyond shared authority in its community-sustained vision—represents an important methodological step forward in democratizing what stories are deemed worthy of telling, preserving, and archiving.
Public humanities, as we envision it through this and other projects, is unabashedly rooted in social justice work. This includes the need to follow the lead of partners, and to work with and for them toward the centering of voices long erased and marginalized—especially Black, Brown, and indigenous lives and experiences.
Public humanities methods insist upon this vision. Public humanities methods, thus, include disrupting past narratives and recontextualizing their meaning. It is this way, of course, that we can move towards a form of community and collective healing. We have so much work to do.
Rebecca Friedman is Founding Director of the Wolfsonian Public Humanities Lab and Associate Professor of History at Florida International University and did her Ph.D. at the University of Michigan in Ann Arbor. She is an expert in the cultural and gender history of modern Russia and the Soviet Union and is author of the first English-language monograph on Russian masculinity. Her recent book, Modernity, Domesticity and Temporality: Time at Home, explores modern time and home in twentieth century Russia (Bloomsbury 2020). Much of her work at present involves public humanities and community engagement, especially highlighting the cultural and intellectual spirit of the Greater Miami region.
Julio Capó Jr. is Associate Professor of History and Deputy Director of the Wolfsonian Public Humanities Lab at Florida International University. He researches inter-American histories, with a focus on race, migration, queer, and empire studies. His first book, Welcome to Fairyland: Queer Miami before 1940 (UNC Press, 2017), received six honors, including the Southern Historical Association's Sydnor Award for best book written on the U.S. South. Among his curated exhibitions is Queer Miami: A History of LGBTQ Communities for HistoryMiami Museum. His research has appeared in top academic journals and, as a former journalist, he has also written for Time, The Miami Herald, El Nuevo Día (Puerto Rico), and The Washington Post, where he also serves as editor for its Made by History section. He's held fellowships at Yale University and the University of Sydney.