Blog Post
Strengthening Community Bonds in Yonkers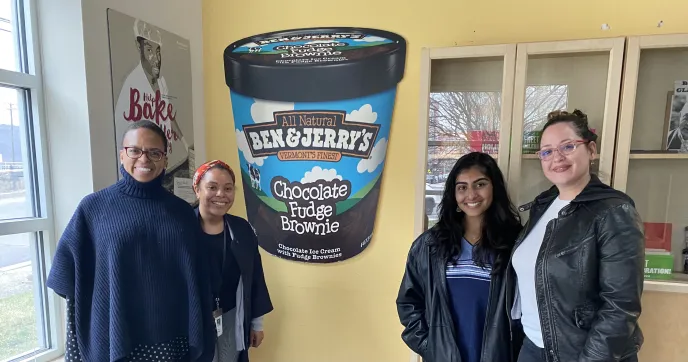 This post is the second in a series of blogs by Fellows at Sarah Lawrence College, who are part of SLC's Mellon Foundation-funded initiative Liberal Arts and the Public Good. In this post, public humanities fellow Dr. Kishauna Soljour shares her experience working with the Yonkers Public Library. You can read more about the Liberal Arts and the Public Good initiative here, and check out the posts from the other Fellows, Dr. Emily Bloom and Dr. Yeong Ran Kim.
--
In 2020, I arrived in Yonkers, New York at the height of the COVID-19 pandemic. As the first Mellon Public Humanities Fellow based at Sarah Lawrence College and the Yonkers Public Library, my task was simple yet daunting: over the course of three years, create programming as well as course offerings that engage local residents and build connections between the college and community. I spent the first few months immersed in the Local History Room at the library. The halls were empty, patrons were not permitted inside of the building, and masks hid the faces of my future colleagues, neighbors, and friends. As I plowed through monographs about Yonkers history, life in Westchester County, and the greater New York state, I realized there were many stories untold.
I am based at the Riverfront Library, which is the largest branch within the Yonkers Public Library system. It is located in southwest Yonkers, in the multi-ethnic and economically-bifurcated downtown area of the city. Long-standing residents of the neighborhood form key African American and Latinx communities, while recent transplants from New York City are central to redevelopment plans for Yonkers. The city's redevelopment plan includes waterfront condominiums, new shopping areas, restaurants, and commercial offices. For many residents, these revitalization efforts translate to increasing home insecurity, gentrification, and, in some cases, increasing rates of homelessness. These communal concerns were compounded by COVID-19. The pandemic unearthed the inequality of health outcomes and economic resources for residents from the area, who reported higher case numbers, hospitalizations, and deaths than other neighborhoods in Yonkers and Westchester County.
In an effort to combat the stultifying effects of economic, health, and social disparities, I worked with library staff to develop a virtual lecture series highlighting the rich cultural history of Yonkers, an oral history project chronicling African American history and community, and a community workshop series that engaged local youth, Sarah Lawrence College students, and community organizations such as the Center for the Urban River at Beczak, Yonkers Community Action Garden Project, and a mobile food pantry. Over 200 individuals participated in these virtual and in-person programs.
As the world returned to a "new normal," I aimed to expand these opportunities in the second year of my fellowship. The first project grew out of a community lecture series from the year before. Entitled "Public Art in Yonkers," the panel discussion featured Yonkers artists constructing large-scale murals, fixing sidewalk cracks with mosaics, and a community quilt project. To share their work with a larger community, I curated the exhibition Rooted: A Community Archive Project, which features work by artists Evan Bishop, Katori Walker, Haifa Bint-Kadi, and Sola Olosunde. While the first three artists are Yonkers-based, I aimed to expand the notion of community by including the photography of Sola Olosunde. He is a Brooklyn-based photographer and captures urban life in New York City. Sola led a workshop with local Yonkers teens and Sarah Lawrence students teaching them how to use professional cameras and canvassing the downtown area to capture images of the rapidly gentrifying waterfront. Their collaborative work was featured in the exhibition. To support these findings, Sarah Lawrence students used the Yonkers Public Library Digital Archives to chart the evolution of the downtown area using photographs, maps, newspaper clippings, and census data. These archival materials were arranged underneath the photos.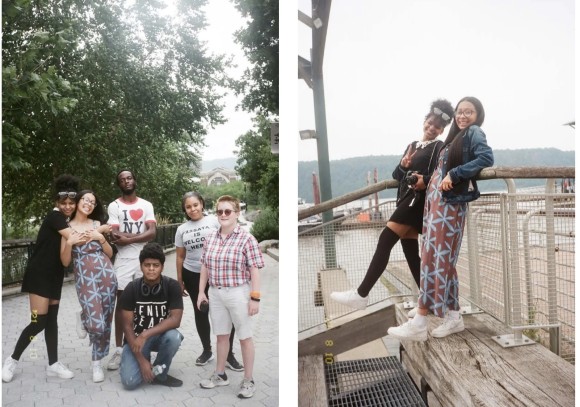 On display at the college's Esther Raushenbush Library from November 2021–January 2022, the Rooted installation consisted of multiple works in a range of media organized around themes of collaboration and storytelling. It included quilts, sculpture, photography, and paintings. There were couches for comfortable seating; books related to art; and a sound track with multiple interviews, music, and sound. This exhibit presented a multi-layered story about identity, community, and history within Yonkers and the greater New York State. The artwork created for the exhibition explored the synergy between movement and culture. At the opening reception, members of the Yonkers and Westchester community joined Sarah Lawrence students, faculty, and staff to engage the artists in conversation about their work and its function in public/private space. New York State Assemblyman Nader Sayegh presented each artist with a citation honoring their contributions to the local community.
Building on themes of community, my most recent project is a collaboration between the college and the Greyston Foundation. Located in Yonkers, Greyston is a non-profit, social justice enterprise creating job opportunities through an open hiring business model. For over 40 years, Greyston has been a pioneer in the field of inclusive and open hiring practices. Offering a second chance to community members impacted by incarceration, substance abuse, homelessness, and systemic inequalities, Greyston Bakery hires anyone who applies for the job. The bakery churns out thousands of brownies per hour. Some of the bakery's most loyal partners include Ben & Jerry's, Whole Foods Market, Cava, Shake Shack, and Van Leeuwen.
In March, CEO Joseph Kenner and Vice President of Strategic Programs & Partnerships Dr. Penny Jennings addressed the Sarah Lawrence community. Their discussion examined business innovation, economic growth in marginalized communities, and how open hiring could be a solution to America's "Great Resignation." Following the discussion, faculty and Career Services staff toured the bakery. Along the tour, we met with current employees and the bakery manager. Our final program with Greyston involves visiting the foundation office. Students, faculty, and Career Services staff will interact with local residents as they participate in soft skills training and work development programming at the Greyston Foundation office. We will conduct mock interviews, review resumes, and discuss social media engagement.
These cumulative programs have changed the way students define and engage their community. Through curation, public programming, and digital preservation, I have worked to honor the diversity within Yonkers' communities while creating space for marginalized community members to voice their experiences and work in collaboration with public and private organizations to reduce barriers to access. It is my hope that this engagement will continue to facilitate inclusivity, provide a space for Sarah Lawrence students, faculty, and staff to learn from each other and share their perspectives, and deepen the connection between the college and its community.
Dr. Kishauna Soljour is a historian, curator, and Public Humanities Fellow at Sarah Lawrence College & the Yonkers Public Library. In 2019, she became the first Black woman to receive a Ph.D. in History from Syracuse University and was recognized as a Forbes 30 under 30 Scholar. Her research highlights the impact of immigration policy and popular cultural expressions of identity. This work received the nation's most prestigious honor for doctoral dissertations: the Council of Graduate Schools/ProQuest Distinguished Dissertation Award in Humanities and Fine Arts. Over the years, she has collaborated with a number of government, community organizations, and NGOs including: Stamford Public Schools, Humanities New York, the New York City Mayor's Office, ArtsWestchester, Amnesty International, the PwC Foundation and the United Nations.