Blog Post
Media Lab: Youth Education and Community Engagement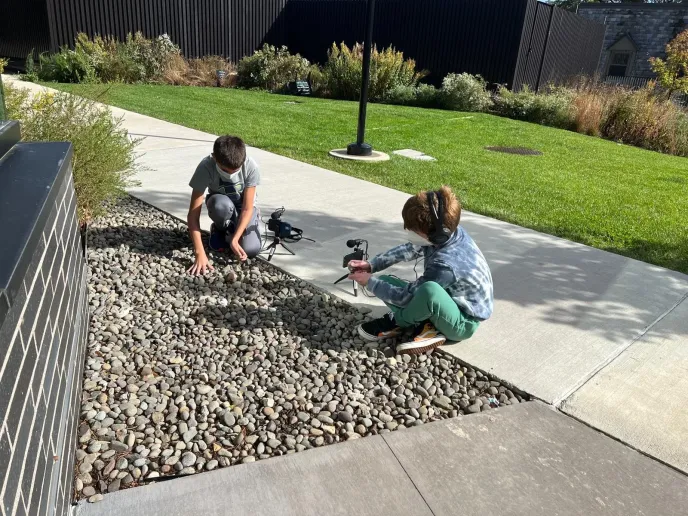 This post is the third in a series of blogs by Fellows at Sarah Lawrence College, who are part of SLC's Mellon Foundation-funded initiative Liberal Arts and the Public Good. In this post, digital media fellow Dr. Yeong Ran Kim shares their work over the 2021–2022 academic year at SLC. You can read more about the Liberal Arts and the Public Good initiative here, and check out the posts from the other Fellows, Dr. Emily Bloom and Dr. Kishauna Soljour.
--
In summer 2020 I started my position as a Mellon Digital Fellow at Sarah Lawrence College. As a multidisciplinary media artist and researcher, my work has always been about either making documentary films or multimedia performances or about writing about the role of aesthetics in community formation, particularly for the socially marginalized. As a Digital Media Fellow at Sarah Lawrence College, I have worked with diverse communities in Westchester County and undergraduate students, offering courses and youth programs, making videos, creating a digitally-based asset map of facilities and capabilities available across our partner organizations, and building and maintaining a website to showcase the Mellon-related projects (see the website for more).
One of the highlights of my work at Sarah Lawrence College is the digital media education program for young people (age twelve to fifteen) from adjacent neighborhoods, including Yonkers, Bronxville, and Mt. Vernon. In the 2021–2022 academic year, I offered a year-long course entitled "Media Lab: Youth Education and Community Engagement," through which undergraduate students work with me to design curricula for youth programs and to teach and mentor young people in the area. The course was built around Saturday media workshop series for youth. Prior to conducting the workshop, I assigned undergraduate students to work on multimedia projects on either the local history of the communities in Westchester or their relationship with the adjacent neighborhoods. With this assignment, I anticipated students would equip themselves with basic skills of media production, while learning about the communities they would work with during the workshop. Then we moved on to setting up a curriculum for the youth program, detailing lesson plans, activities, and the goal of the workshop. Designing a curriculum was not just a practical activity to prepare the workshop; more importantly, it was an opportunity for students to discuss pedagogies in digital media education for youth. And finally, we offered the workshop series on Saturdays (in October and November in Fall 2021 and from February to April in Spring 2022). While the recruitment was challenging due to the COVID-19 pandemic, with the help from the Office of Community Partnerships at the College, we reached out to various communities and invited children enrolled in Yonkers, Bronxville, and Mt. Vernon public schools.
In Fall 2021, we designed a curriculum with focus on sound and environment and launched a four-part Saturday workshop series as a pilot. Our goal was to offer the youth participants an opportunity to retune their ears to their everyday surroundings and to share their unique perspectives and stories about their experience through listening and sound composition. We taught them skills such as field recording, scripting, audio editing, and remixing, and the outcomes were outstanding. The twelve- to thirteen-year-old kids came up with audio drama, radio shows, and experimental music. The works are up on the college's website.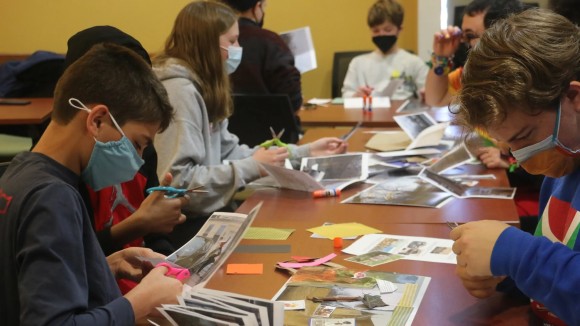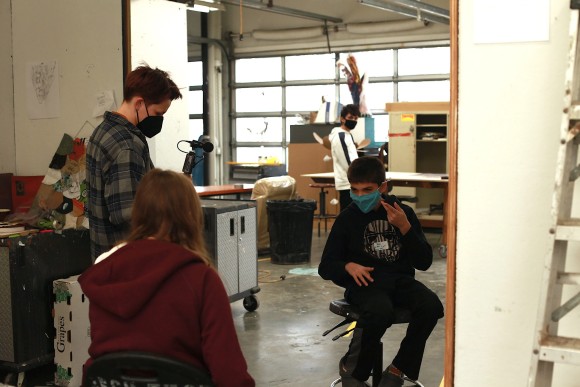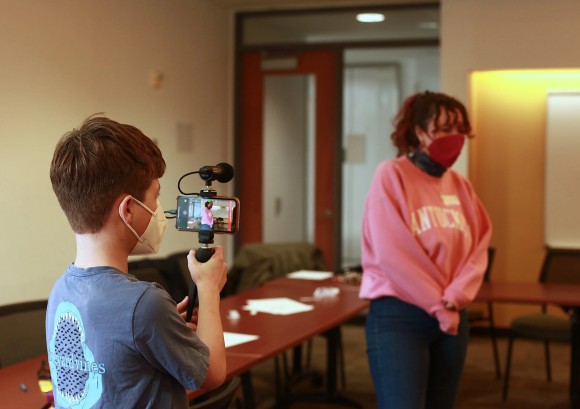 Inspired by the success of the first workshop series, we expanded the range of digital media production, involving more diverse genres of arts to inspire the youth and increased the series to a 6-part Saturday workshop. We organized the program, utilizing collage, creative writing, video-making, character design, rotoscope, movement composition, and animation. To our surprise, young people (age twelve to fourteen) learned how to use technology, including smartphones and iPads, more quickly than we expected to execute their ideas. On the final day of the workshop, we invited their families and friends to celebrate the work they had done. The youth participants proudly showed their works and explained the process of making the work, even the ones who at first were shy and did not want to come up to the stage. After the presentation, we heard from the families that their kids were inspired to learn more skills for digital media and wanted to know if we would offer more in the future. One participant's grandmother mentioned how her grandchild had become interested in going to college because of his experience during the workshop. He also shared his interest with us that he wants to become an animator in future. That was certainly one of the most rewarding moments for me and my students. Through digital media, we were able to explore new pedagogies for young people, offering means to express their ideas and creativities in a new terrain. We plan to curate an online exhibition at the end of the semester to share the works with the community.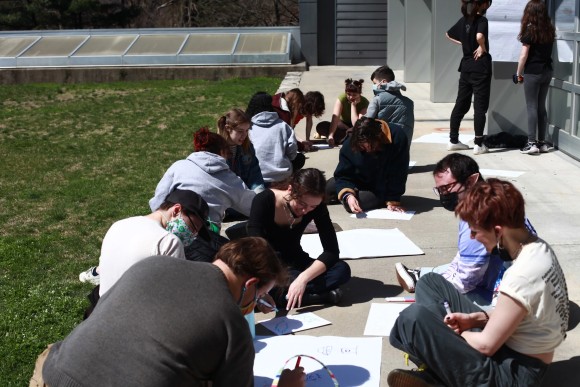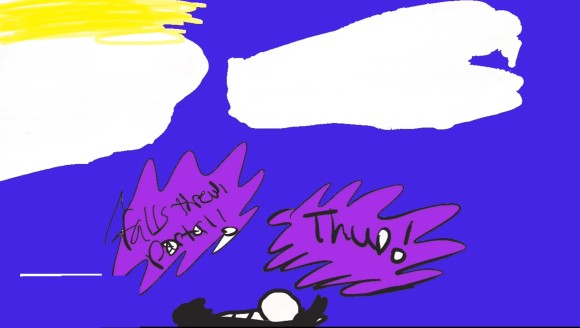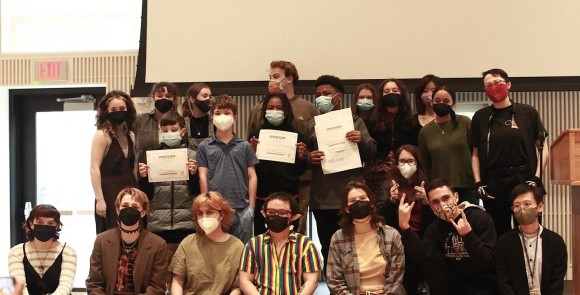 Working with young people, I realized even more the importance of digital humanities in education. With more accessible technology, young people—both the participants of our workshop series and the undergraduate students—learned to express their ideas through multimedia, including sound composition, video-making, drawing, and animation, which is becoming more central in today's communication than writings. For the generation who uses pictures, audio, videos, and memes more frequently than written words to communicate with each other, learning a new means of expression was not only an attention grabber, but also an opportunity for them to learn how to communicate with each other beyond verbal languages. In exploring new aesthetic realms of digital media, my students and the youth participants learned about each other and built friendship through different forms of expression, especially the non-verbal ones such as movements, drawings, and animations. This experience strengthened my belief in multimodal scholarship as the future of humanities: utilizing digital media as pedagogical tools brings so much joy into the learning experience and expands our capacities to express our ideas and understanding of the community through more accessible technology.
Yeong Ran Kim is Mellon Digital Media Fellow at Sarah Lawrence College. Yeong Ran holds a PhD from the Department of Theatre Arts and Performance Studies at Brown University. Yeong Ran's projects draw together her research in the contemporary queer culture with performance studies, Asian/American studies, gender and sexuality studies, and film and new media studies. Yeong Ran is currently working on a book project entitled Queer Outbursts: Artmaking, Social Movements, and Media Technology in Transnational Korea, which examines the intersection of queer aesthetic practices and social movements. Yeong Ran's work is published in The Korea Journal and is included in a forthcoming issue of TDR/The Drama Review. Yeong Ran is also a visual/sonic media composer and a member of "The Urban Mythfits," a performance-artists collective based in New York City.