Blog Post
Celebrating One Year of the Humanities for All Blog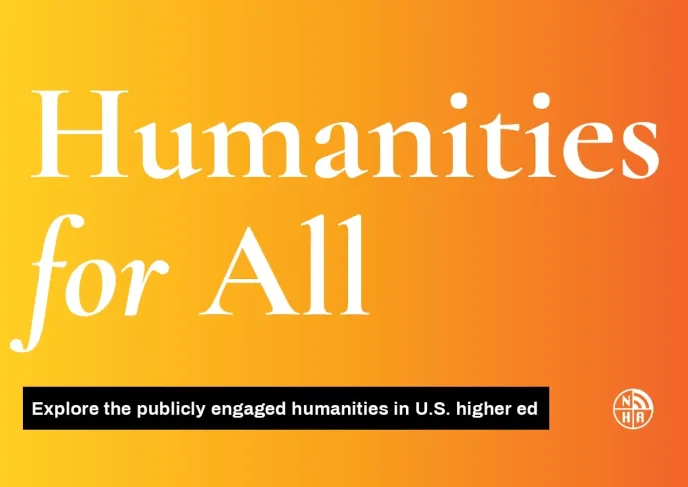 On June 30, 2020, we launched the Humanities for All blog in the hope that it would be a space for all those involved in public humanities projects to reflect on their experiences. Through 37 blog posts over the past year, we have shared the voices of project directors along with those of students and community members who have participated in a wide range of projects.
Collectively, contributors have revealed creativity and tenacity in confronting the challenges of the past year and drawing on the humanities to enrich community life—even in a year when face-to-face engagement was largely impossible.
Here, I celebrate the one-year anniversary of the blog's launch by noting a few major themes that connect the posts and highlighting two or three exemplary pieces in each section. You can use the filters at the top of the blog page to read more posts in each category.
Learn more about sharing your work with us here.
Building Partnerships
Partnership between higher education institutions and community organizations is the backbone of the work featured on Humanities for All. On the blog, we worked with several projects to highlight the work that goes into building these mutually beneficial partnerships.
In Memoir as a Tool for Action, Susan Scheckel of the Humanities Institute at Stony Brook shared the impact of their partnership with Herstory Writers Workshop to offer "Testify: Memoir as a Tool for Building a Movement," in which college students wrote alongside a diverse group of community members. The partnership has grown from one workshop into a credit-bearing internship program, a training institute, a graduate student fellowship program, and six writing workshops.
Another post that focuses on building partnerships is Archives in Common, by Ángeles Donoso Macaya at the CUNY Graduate Center. This project, one of many to come out of the Graduate Center's Seminar on Public Engagement and Collaborative Research, leverages a strong partnership with local restaurant La Morada to create a dynamic archive that both highlights community mutual aid initiatives in New York City and facilitates space for knowledge sharing. Through public talks, round table discussions, workshops, and classroom visits with immigrant activists and artists, Archives in Common uses archival practices to break down the walls that separate public universities and the communities in which they exist.
COVID-19 and the Public Humanities
During the past year, humanists have worked to capture experiences of the pandemic and serve their communities in new ways. Those in the public humanities faced the added challenge of being generally unable to engage the public face-to-face. Many of our blog posts highlight the innovative ways public humanists rose to meet the needs of their communities during a tumultuous year.
In The Pandemic Journaling Project, one of our inaugural posts from June 30, 2020, Sarah Willen wrote about her and her colleagues' work to create a space for the public to document their experiences of the pandemic. These digital diaries give people the time and space to reflect, with the option to keep their reflection private or to share publicly. The project was later featured in the New York Times in February 2021 as possibly "the most complete record of our shifting moods in this isolating year.".
Another early post on the blog, Humanities Responders by Aaron Fai, describes how the Center for the Humanities at the University of Wisconsin was able to quickly adapt its Humanities Exchange program into the pandemic response-focused Humanities Responders. The program was later profiled for Humanities for All by our project director, Michelle May-Curry. As Fai describes, "Unlike the first responders who work at sites of public emergency, our Humanities Responders are students recognizing the invisible crises left off the front pages and collaborating with local leaders to build resilience for a murky future."
Place-Based Projects
Evident in a number of projects highlighted on the blog this year was a strong connection to place. An important tenet of the public humanities, the concept of "place" varied from specific communities to broader discussions of what it means to have a connection to place. In Cleveland Divided: Rust Belt Revival, Katharine G. Trostel, Mary Frances Pipino, and Elizabeth Kavran of Ursuline College share their curriculum-based efforts to bridge the gap between Ursuline's suburban landscape and its neighboring "inner-ring" communities, where many of the college's students live. Through an interdisciplinary "Rust Belt Pathway" course track, students are prepared to be "cultural problem-solvers" in their communities.
In Exhibiting Collaboration in Boston's Chinese-Speaking Neighborhood, Diane O'Donoghue of Tufts University and Brown University collaborated with Brianna Allen, managing director of the Chinese Historical Society of New England, to share their experience creating an exhibition of reading, writing, and printing in Boston's Chinese community. Their work on the exhibition later helped facilitate the return of the neighborhood Boston Public Library branch, an important space for the local community.
Student Voices
This year, we were excited for the blog to blossom into a space where more perspectives on public humanities projects could be shared. As higher education-based public humanities projects begin to integrate students into the work via courses, grant opportunities, and community partnerships, it is increasingly important to understand the impact of these student experiences.
This year, contributions from student writers illuminate how participation in public humanities initiatives informs their relationships to their local communities beyond campus, encourages new skill-building, and influences career decisions. The perspectives of both undergraduate and graduate students were an important addition to the HfA blog space. In The Oberlin Sanctuary Project, then-undergraduate student Caitlin Merikallio wrote about her experience working on the project, which documents Oberlin's history of providing a safe haven and help for humankind. This and two other student-written blogs were an extension of our partnership with the Council of Independent Colleges to document the impact of their Humanities Research for the Public Good grants.
Share Your Work
If you have a public humanities project or experience to share, please consider writing for us! You can learn more about writing for the blog here or by emailing me at yoliver@nhalliance.org.